Huskers run away from Bulldogs 55-19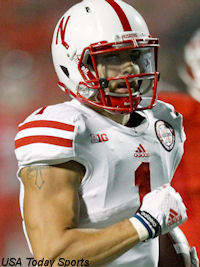 "It was a good win to get on the road," Pelini said. "I was happy with the way our team responded and came out with good energy. I saw some good things and some things we're going to have to clean up, but we'll take it, go to the next one and learn from this tape."
The game didn't begin until around 9:40 Central time and didn't conclude until nearly 1:30. Despite the time difference, the nearly-100 degree temperatures and Fresno State's up-tempo attack, NU didn't wilt.
Fresno State was never able to create much of anything offensively - the Bulldogs gained just 346 yards to Nebraska's 562. The Huskers averaged 8.5 yards per play and had four scoring plays of at least 50 yards, the most in the Pelini era.
Abdullah was quiet after his big touchdown run, but he still managed to top the 100-yard barrier for the 19th time in his career. Abdullah finished with 110 yards on the ground to pass Rex Burkhead on NU's all-time rushing list. The senior is now in fourth place with 3,373 yards.
Armstrong wasn't perfect, but he turned in another strong performance. The sophomore completed 12 of his 21 passes for 260 yards and three touchdowns and added another 65 yards on the ground. Armstrong became the first Husker to top 300 yards of total offense in three straight games since Joe Ganz did in 2008.
"Trust me, there were a lot of mistakes out there," Pelini said. "There's a lot of things we need to do to get better. Like I said, I thought it was a good effort. We'll learn from it and go on to the next one. We need to keep getting better. You just look across the country, what happened to us last week happens a lot. We won the football game. We're 3-0, and now our next goal is to become 4-0. That's all that matters."