Huskers routed by Wolverines in Ann Arbor 45-17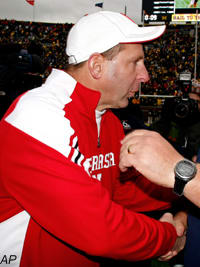 Despite trailing by just seven at halftime, a flurry of devastating special teams miscues turned the game into a 45-17 route in front of 113,718 fans, the largest crowd ever to watch Nebraska play.
In all, the Huskers fumbled two kickoff returns, had a punt blocked, committed a crucial roughing the punter penalty and gave up a fake field goal to extend an eventual touchdown drive, all of which coming in the second half.
The pass was Kinnie's first touchdown of the season and the longest pass play allowed by Michigan's defense all season.
Moore returned the ball down to the UM 34, giving Nebraska its best starting field position of the day to that point.
Michigan bounced right back on its ensuing possession, though, as Robinson worked a 12-play, 74-yard drive that ate up six minutes and featured three third-down conversion runs by Robinson.
The junior signal caller finished off the drive with a 14-yard keeper for a touchdown to reclaim the lead at 17-10 with 6:05 left in the half. Overall, the Wolverines were 5-of-7 on third down conversions in the second quarter, while Nebraska didn't convert a single third down in the first half.
Robinson finished the game 263 yards of total offense and three total touchdowns.
"He's a good player," Pelini said. "He made us miss a couple of times. We made him look good throwing the ball. We had a few balls in our hands that we could've intercepted. Like I said, we had opportunities to make plays and we didn't do it."
Both teams had chances to add to the score in the final minutes of the half, but Michigan's seven-point lead held into halftime. The Huskers were almost doubled up in total yardage in the first half, 230-125, and the one long pass to Kinnie stood as their only time even moving the ball past the UM 20-yard line.
The most surprising stat line of the first half came from Burkhead, who rushed just four times for four yards. After ranking third in the Big Ten with 107 rushing yards per game coming into the game, he ended up with a season-low 36 yards on 10 carries.
A 23-yard pass to Gallon moved the ball to the 7, and the Wolverines finally punched it in six plays later on a 1-yard bootleg run by Robinson around the right end.
Already trailing 24-10, things got even worse for the Huskers on their next drive. After failing to convert on third down, Maher bobbled the snap on a punt and tried to get off a kick at the last second, but Michigan blocked it and took over at midfield.
Maher ended up getting injured on the play and was helped to the sideline by NU trainers, but he returned to the game for the Huskers' next punt.
The Huskers pounded their way right up the field and eventually scored on a handoff to Burkhead that turned into an option pitch out to Abdullah for a three-yard touchdown run with a little less than a minute to go in the third quarter.
Bo Pelini was a little more direct in his opinion on the penalty: "That wasn't the right call on roughing the punter."
The score made it 38-17 with just over 10 minutes to play, and there was no looking back for the Wolverines from there. Nebraska had two defensive backs on Odoms on the pass, but he was somehow able to get behind both of them for the game-clinching touchdown.
Michigan added another touchdown just for good measure on another touchdown run by Toussaint following a fumble by Martinez deep in NU territory.
Martinez ended up taking a big step back after five straight games of solid passing, completing just 9-of-23 passes for 122 yards and getting sacked three times.
Nebraska will close out its first Big Ten regular season on Friday when it plays host to Iowa. With their conference title hopes flying out the window in Ann Arbor, though, the Huskers will merely be playing for bowl position.
"I've been coaching a long time, and I can name those three or four times where - I call them those Murphy's Law games, where anything that can go wrong goes wrong for you," Carl Pelini said. "I mean, how many times if Brett Maher going to drop a snap. How many times is that roughing the punter going to get called in a season? The two kickoff return fumbles? It's just like the wheels came off, and once that happens and you start reeling, boy, it's hard to fight back."
The obvious topic for Nebraska's players and coaches following the game were the many miscues made by the special teams units in Saturday's loss.
As much as the Huskers wanted to give an answer, none of them knew exactly how or why it all went wrong.
"We've been playing well on special teams," Bo Pelini said. "Dropping a punt, not blocking well, you can't do those things. I don't know why we dropped the ball. I thought out guys were ready to play. I don't have the answer why to why we put the ball on the ground twice in the second half."
"It was a comedy of errors," Papuchis said. "It's obviously uncharacteristic of things that we had done."
The most glaring mistake was the roughing the punter penalty on Richards. Papuchis said Nebraska did call for block from the punt return team on the play, as they wanted to try and come up with a big play with the momentum starting to shift in their favor.
Instead, they got a penalty that all but slammed the door on the game.
"We felt like we wanted to make a play at that point," Papuchis said. "We're down 14, and we debated a little bit of what the better route was, but thought that gave us an opportunity. It was something we had worked on in practice, and it was almost there."
Like Bo and Carl, Papuchis wasn't so sure the officials made the right call on the play.
"I don't know," he said. "I didn't get to see a great replay, but, I don't know. Obviously it's a tough call to make."
As for the two kickoff return fumbles by Bell and Marlowe, Papuchis said they were no one's fault but their own.
"We've got to hang onto the football," Papuchis said. "Any time you return a kickoff, the next play has to be for our offense. That's something that's inexcusable. You can't have turnovers on special teams."