Huskers roll past Arkansas State in 42-13 rout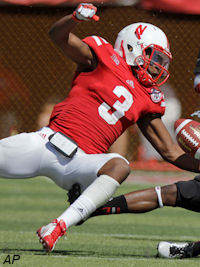 Under different circumstances, Nebraska's 42-13 win over Arkansas State on Saturday would have been the perfect remedy after a tumultuous week coming off last week's loss to UCLA.
He did not return to the game for the second half, and reportedly was taken by ambulance to Bryan LGH Medical Center West in Lincoln. Fortunately, it sounded as if Pelini would be OK, and that he was hospitalized for precautionary reasons only.
"Everything is fine," Pelini said in a statement from the hospital. "They ran some precautionary tests and everything checked out just fine. I plan to be back at work tomorrow. I'm proud of our team and coaching staff for the way they responded this afternoon."
While all thoughts were on Pelini after the game, there was no denying the Huskers put on quite a showing on the field.
As expected, Arkansas State came out with a blistering offensive pace, getting snaps off with as many as 28-30 seconds left on the play clock at times. After a bit of adjusting to the tempo, though, Nebraska's defense settled in and blanked the Red Wolves on four their five possessions in the first half.
"We knew we had to survive that initial surge. You could see that first series, they kind of had us on our heels a little bit and moved the ball… Once we could settle in, we felt like we had a pretty good handle of how they were going to attack us. I was really pleased with the progress we made on defense."
Abdullah, who topped his previous career-high with 17 carries for 81 yards in the first half, touched the ball on six of NU's nine plays on the drive, including a 26-yard reception.
Abdullah ended the day with a game-high 167 yards and two touchdowns on 30 attempts.
Martinez found Bell again for a second touchdown pass on the ensuing drive, this time a 25-yard completion over the middle where Bell twisted and turned his way into the end zone, making it 21-3.
Martinez completed 13-of-14 passes on the day for 180 yards and two touchdowns, while Bell hauled in three passes for 71 yards and a pair of scores.
While the defense continued to keep the Red Wolves out of the end zone, the Huskers' offense kept on grinding to close out the half with one last touchdown. Nebraska held the ball for nearly the final five minutes of the half by running the ball nine times during a 10-play drive and punching it in on a 2-yard touchdown by Abdullah with just 35 seconds to go before halftime.
Abdullah carried the ball seven times on the drive. Overall, the Huskers ended the half with 278 yards of total offense (150 passing, 128 rushing), and held the potent Red Wolves to just 197 total yards.
Martinez, who was celebrating his 22nd birthday on Saturday, completed all eight of his passes in the first half, including two touchdown tosses.
As well as Nebraska played through the first two quarters, though, news of Pelini having to leave the game due to health issues at halftime put a cloud over the team going into the second half.
Some big mistakes didn't help matters, either, as Martinez fumbled on two of NU's first three drives of the third quarter, one of which being recovered by Arkansas State for a touchdown.
Martinez fumbled the ball away on Nebraska's next possession on what had been a promising drive, but the defense forced ASU to punt it away. On the punt, however, Abdullah lost the ball in the sun, and it hit off of his heel on the bounce and was recovered by the Red Wolves at the NU 15.
Luckily for the Huskers the defense was able to bail them out once again, holding Arkansas State to a 32-yard field goal by Davis to cut the lead to 28-13 with 4:19 to go in the third.
Despite scoring 10 points in the third quarter, Arkansas State registered just 15 yards of offense without a single first down.
Nebraska's defense continued to lock down the Red Wolves' offense, and Martinez padded the score even more with an 18-yard touchdown run to make it 42-13 with just over nine minutes to play.
The Huskers will look to continue to build of Saturday's performance when they play host to Idaho State next week. Kickoff for that game is set for 2:30 p.m. CT.
"You hear the term 'adversity' thrown around a lot in athletics, but the theme of this week was how are we going to respond," Papuchis said. "Going into the week, you think it's just responding to not playing well on the road, and that changed as the week went along. We went from not playing real well on the road and losing a game that you're so disappointed in losing, to having a little bit of attrition with your football team, to going into a game and playing fairly well in the first half and realizing that your leader wasn't feeling real well, coming out to play a second half and not really starting the second half real well, and then responding.
"There are so many life lessons that I think our guys can take from this. It's been a very trying and emotional week, and I'm glad to see the way our team fought today."
[rl]