Huskers roll Minnesota in 48-25 victory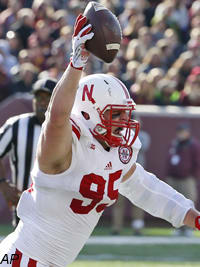 Behind one of its most complete all-around efforts of the year, NU rolled over Minnesota 48-25 to pick up its first Big Ten victory and snap a two-game losing streak in front of a sellout crowd of 52,062.
The momentum continued rolling in Nebraska's favor on into the second quarter, as the offense mounted a 16-play, 63-yard drive that ate up 6:32 off the clock and pushed its lead 17-7 with a 45-yard field goal by Brown. Though they didn't reach the end zone, the 16-play drive was the Huskers' longest of the season.
Because of a holding penalty, Armstrong accounted for 102 yards of offense on the drive, completing a perfect 6-of-6 passes for 77 yards to go along with a 25-yard rush.
Armstrong came right back on the following drive with a 14-yard touchdown pass to Pierson-El, who out-jumped a Minnesota defender, tipped the ball in the air and came down with it in the corner of the end zone to push the lead up to 38-14 with 14:21 to play.
The Gophers kept fighting and got back on the board with a one-yard touchdown run by Leidner, and then Leidner found Maye to covert the two-point conversion to make it 38-22 with 11:52 remaining. Minnesota then made a 39-yard field goal with 6:49 left to cut the lead to 38-25, and the pressure was on for NU's offense to eat up the rest of the clock and preserve the win.
The Huskers will look to keep things going next week when they play host to Northwestern for an 11 a.m. kickoff on either ABC, ESPN or ESPN2.