Huskers regroup for 38-17 win over Northwestern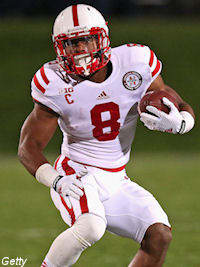 The teams traded punts until Northwestern finally got going again with another long drive, this time going 88 yards on 10 plays and scoring on a five-yard run by Jackson to go back up 14-7 with 1:52 to go in the half.
Things slowed down a bit in the third quarter until Nebraska got back on the board with a touchdown drive that saw it convert three third downs, including conversions from 10 and 13 yards. A 17-yard pass to Pierson-El got the ball to the goal line, and Abdullah once again punched it in to put NU back up 21-17 with 4:27 left in the third.
Nebraska struck again early in the fourth quarter, as Abdullah finally got loose on a 50-yard run down to the 1 and then plowed in for his third touchdown of the night to boost NU's lead up to 28-17. On NU's next possession, Armstrong broke off a 16-yard run down to the 1, setting up Abdullah for his fourth score to all but put the game away at 35-17.
Brown added a field goal with 4:28 remaining to make it 38-17, putting the finishing touches on an all-around impressive second half for NU.
"(The win) was absolutely important," Pierson-El said. "A lot of people changed their mind about us and everything like that but we're the same old team. Everybody has off-weeks and off-days, and it just so happened that Michigan State was our off-game. But we bounced back and everything's going to be on a roll."