Huskers rally back for 34-27 win over Ohio State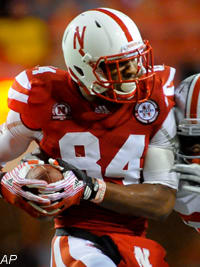 At one point, it looked like Nebraska's season was crumbling before its eyes on Saturday night. It ended up being a win that could define the program's future.
Trailing 27-6 early in the third quarter, the Huskers scored 28-unanswered points in a miraculous second half comeback to pull out a desperately needed 34-27 win over Ohio State.
The 21-point rally marked the largest in Nebraska's school history, topping the Huskers' 17-point comeback against Texas A&M in 2002.
After a week filled with criticism and scrutiny, Martinez responded by completing 16-of-22 passes for 185 yards and two touchdowns while also rushing for 100 yards and a score. Burkhead was his usual playmaker self, carrying 26 times for 117 yards and a touchdown and catching a team-high five passes for 59 yards and a touchdown.
It was a game in which the Huskers were favored by as many as 11 points coming in, but it was a win that saved their season from the brink.
The same problems that led to last week's blowout loss to Wisconsin came right back to start the game for Nebraska, as the offense continued to struggle to move the ball and the defense couldn't seem to tackle anyone through the first two quarters.
Ohio State ended up with 141 total yards in the first quarter compared to just 32 by Nebraska. In last week's 10-7 loss to Michigan State, OSU had 178 yards in the entire game.
The Huskers took a chance on their next possession when they opted to go for a fourth-and-1 at the Ohio State 42-yard line, but Burkhead was stuffed on a Wildcat keeper for a turnover on downs.
Things slowed down a bit until Maher added a 34-yard field goal to make it 17-6 with 2:44 left in the half, though Nebraska had three plays deep in Ohio State territory and failed to reach the end zone.
Poor tackling allowed Miller to break a 29-yard run on Ohio State's next play, and Basil drilled a 35-yarder as time expired to make it 20-6 at the end of the first half.
The Buckeyes ended the half with 246 total yards, including 178 on the ground. Nebraska managed just 117 total yards on 32 plays. Burkhead was held to 10 rushing yards on 11 carries, and while Martinez was 10-of-13 passing, he only threw for 80 yards with an interception and was sacked twice.
The second half picked up right where the first left off, as Nebraska went three-and-out on its opening drive and Ohio State moved straight down the field on a seven-play, 47-yard drive and punched it into the end zone to push the lead up to 27-6.
Down 21 points, it looked like the nail had been firmly hammered in NU's coffin for the game. Then, something finally went right for the Huskers.
"We had that ball-hawking mentality and that's something we really went over in practice: being aggressive. Coach Carl (Pelini) was preaching that the whole week, be more aggressive," David said. "He hasn't seen that swagger that we've had. So that's what we tried to do tonight. Have that swagger, attack the football and get after it."
"I just that we knew we had to come back," Martinez said. "Our offense knew we had to step up. The first two drives we couldn't put it in the end zone. We were just kicking field goals. We just knew we had to score."
Nebraska's defense continued to come up big in the fourth quarter, as Bauserman was unable to get into any kind of rhythm. After forcing the Buckeyes to punt two drives in a row, Martinez made a great play when he avoided the rush on a play-action pass and dumped the ball out to a wide open Burkhead in the flat.
Burkhead made the one defender who could get him miss, and he sprinted 30 yards down the sideline for the game tying touchdown with 7:35 remaining.
Ohio State helped the Huskers kick start the drive with an offsides and facemask penalty on the first two plays, and Burkhead took over from there. After a 22-yard run by the Plano, Texas, native, he followed up with an 18-yard rushing score that gave Nebraska its first lead of the game.
Another defensive stop gave the Huskers the ball back with less than five minutes to play, and Nebraska only needed to run out the clock to come away with its first ever Big Ten victory.
"That was something else," Burkhead said. "That was unbelievable. I've never been a part of a game to be down that much and come back and win in that fashion. That was an unbelievable win all around. If feels good."
All week long Nebraska's players and coaches had been coming to the defense of Martinez in the midst of the heavy criticism he received for his three interceptions last week against Wisconsin.
Following his performance on Saturday night, the team essentially gave one big "I told you so" during post-game interviews.
"Taylor played his butt off," Bo Pelini said. "He's one of the leaders on the team, and I'm proud of him. Everyone wants to doubt him. Whatever. You guys can choose to write whatever you want and attack him like the fans will, and now they'll praise him. But I told him, you're not as bad as you think you are. There was a lot of things he can do better out there tonight, but he kept fighting, he led the team, he played a heck of a second half. I'm proud of how he responded, how he played. That's why he's the starting quarterback right now."
"I love the kid," Beck said. "He's a special player, a special young man. To endue what he's had to endure through the media and the press and the fans wanting to throw the towel in on him; I'm not. I won't. Coach Bo won't. Our team won't. I'm proud of the way he responded. Boy, he gamed it out tonight. No question about it."
The same went for Nebraska's players, who were some of his biggest supporters of all last week. Several players praised the way Martinez stepped up not only in Saturday's win, but during the entire week of practice.
"He did a tremendous job, especially coming out in the second half," Burkhead said. "He had some big pass plays, over the middle, down the field. It shows his maturity and leadership and experience from last year and how much he's grown in that role in the quarterback of our team. We believe in him. He's a big-time playmaker. He's going to get the job done."
In the locker room during halftime, Bo Pelini went to his offensive line and issued the unit a challenge. Either they stepped up and paved the way to a second half comeback, or walk away with the team's second straight Big Ten loss.
As you can tell, the o-line met Pelini's challenge head on.
"We talked really to the offensive line just about it's a game on them," Beck said. "They've just got to do what they do, and I think in the first half we were mis-assigned sometimes and missed some things here and there that hurt us in the running game. That's our staple, and we've got to have that going. We made some adjustments, we changed some blocking schemes and how they were playing, and we were able to piece together a couple of first downs and then we started to roll.
"When we start rolling, we can be as good as anybody."
"I felt it in their players," Hardrick said. "I saw it in their eyes. I saw they didn't want it anymore. They knew we were ready to play, and I think we just took it and ran with it. They just stopped fighting, I guess."
Hardrick was asked what it felt like to know the offensive line was starting to completely dominate the Buckeyes up front:
"Oh man, just knowing you're taking another man's will," he said. "Unbelievable."
***Carl also had some thoughts on Nebraska hearing some scattered boos as they went into the locker room at halftime: "When everybody kind of gave up on us and booed us off the field at halftime, we believed and we came back and fought our tails off, and look what happened. Look what can happen."
**Even after putting up just six points in the first half, Beck said the offense never worried it wouldn't get going eventually.
"We never panicked offensively," Beck said. "We just kept believing we could do it. Just kind of what we did in the second half, we just started clicking. I'm proud of them."
"It was just a challenge I had to take on," Martin said. "It was kind of hard, especially with how heavy I am. I gained a little bit of weight, so it's kind of hard getting the steps back and the movements. But I adjusted well. I did some good things and I did some bad, and I just have to learn from them."
***Bo Pelini didn't have much to say about beating his alma mater in the Buckeyes: "It's not about me. It's about our football team."
***Bo had plenty of complements for both Burkhead and Beck after the game.
"Rex plays like he always does," Bo said. "He's a heck of a football player. Great football player. I thought our offense played phenomenal. I thought Coach Beck and the offensive staff made some great adjustments in the second half. I thought Tim called a phenomenal game in the second half. Like I said, it was a team effort."
***The Huskers get a much needed bye this week, which Bo said comes at a perfect time for his team.
"Yeah, I think our football team, it's about halfway," Bo said. "Our football team is ready for a bye and I think they need a break, mentally and physically."