Huskers punch ticket to NCAA Tournament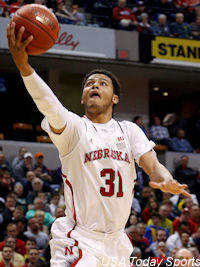 Click
Here
to view this video.
The nearly 2,500 fans that filed into Pinnacle Bank Arena for Nebraska's Selection Sunday viewing party on Sunday afternoon had a feeling it was going to be a special day. When the Huskers were finally called during CBS's NCAA Tournament bracket announcement show, the crowd let out a roar venting 15 years of frustration.
For the first time since 1998, Nebraska (19-12) qualified for the Big Dance as a No. 11-seed and learned it will face No. 6-seed Baylor (24-11) out of the Big 12 Conference in the first round on Friday in San Antonio, Texas. The game will tip-off at 11:40 a.m. CT on Friday and will be shown on TruTV. Marv Albert, Steve Kerr, and Craig Sager will be on the broadcast.
"I never really had a doubt," head coach
Tim Miles
said. "I just thought maybe Dayton was a real possibility. Just the whole thought of trying to get film tonight on Xavier or whoever it might be, trying to get organized - just that whole turnaround part, whether you play Tuesday or Wednesday, that concerned me. That whole part worries you when you find out Sunday night. When I saw BYU in (as a 10-seed), that was the first point where I'm like, 'Oh boy. That's got Dayton written all over it.' Then when I saw San Antonio and I saw Creighton, I thought, you never know. They might just be crazy enough to stick the Huskers down there too. Sure enough…"
The Huskers, who have never won an NCAA Tournament game in program history, avoided the dreaded play-in game in Dayton, Ohio, relieving both the team and fans from what would have been a grueling week of travel. On the other hand, should NU get past Baylor in its first game, it could potentially face in-state rival Creighton (26-7) in the next round on Sunday. The Bluejays will face No. 14-seed Louisiana-Lafayette.
The other match ups in Nebraska's bracket are No. 7 Oregon vs. No. 10 BYU and No. 2 Wisconsin vs. No. 15 American.
"I've watched Baylor a little bit, just because for a while there they were on the bubble too and then they played their way off it and played really well and won some big games and were impressive." Miles said. "They've got great length, great athleticism. They have really bright uniforms - adidas uniforms, but the way - and Scott Drew has done an amazing job of putting that team together. Like I said, talent-wise, I don't know how many draft picks they're going to have on that team, but they're going to have a whole bunch. It looks like a really fun game to be a part of."
This marks the Huskers' seventh NCAA Tournament appearance (1986, 1991, 1992, 1993, 1994, 1998) and the 24th postseason appearance in program history. It's also NU's first postseason berth since the 2011 National Invitational Tournament, when the Huskers fell in the first round to Wichita State.
"I'd never been this nervous before, because it was out of my control," sophomore forward
Shavon Shields
said. "I'm just happy to be in there… It's huge. It's a small step in the big picture of what we want to do. We kind of underachieved in the Big Ten Tournament, and I think we're ready to get back and bounce back in the NCAA's."
As for the nerves and celebration that capped off Sunday's event at Pinnacle Bank Arena, Miles said it was just the latest example of why Nebraska fans are some of the best around in college athletics.
"I think it was awesome," Miles said. "People will support you if you work hard, and they'll love you if you win. These guys have earned that, but our fans have just been so good. That was a really cool moment. My greatest regret when I was at Colorado State was when we were an 11-seed, and we did it privately. We just weren't sure, it was our first time. We knew we were going to have a better team the next year, and so I thought well next year we'll have a big to-do. And I regretted that, because I just think our fans, our core fans that really supported us, missed out.
"They told me CBS was going to wire in (a live shot), and they said what do you think? I said it's going to be great TV, because if we get in, they're going to see the support and the energy level, and if we don't, they're going to burn the place down. So I think it's great TV that way. We'll have to rebuild this place, but…"
[rl]