Huskers power past Indiana in Big Ten opener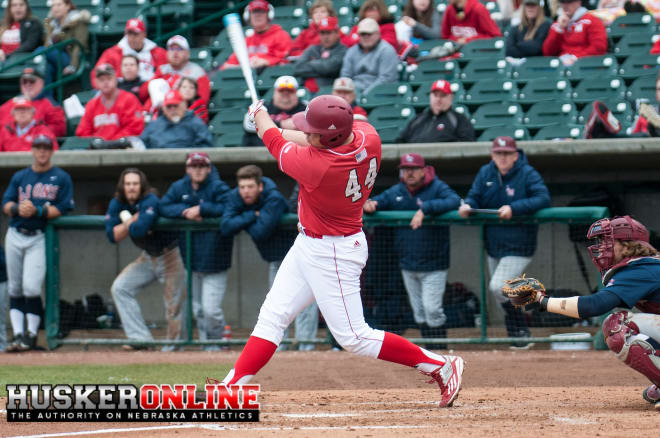 After hitting just four home runs through the first 23 games of the season, the Nebraska lineup found its power in a 7-3 win over Indiana to open Big Ten play Friday.
Nebraska senior Ben Miller tied the game in the fourth inning with a towering solo homer to right field, and after Miller scored Jake Meyers on a lead-snatching RBI single in the eighth, junior Luis Alvarado lined a three-run shot over the right field wall to break the game open. That four-run eighth inning followed a recent trend, as the Huskers have put up at least a "three-spot" (three-run inning) in each contest of the current four-game win streak.
The late-game Husker heroics helped continue a dominating trend as Nebraska (14-10) is now 14-1 when holding a lead in the seventh inning or later. While he's certainly not unfamiliar with his team's ability to lock it down late in games, Nebraska head coach Darin Erstad was impressed with his team's grit in the face of adversity down the stretch.
"In conference play, on the road, you're going to have ups in downs," said Erstad in his post-game radio show on the Husker Sports Network. "We didn't let those affect us. We responded very well and it was a hard-fought battle."
The game was a pitching duel through the first three innings, as the teams combined for just three hits before Indiana (14-10-1) started the scoring with an RBI double by Alex Krupa. After Ben Miller's solo homer tied it up in the fourth inning, Indiana grabbed the lead right back on a Logan Sowers sacrifice fly to bring in Luke Miller, who led the Hoosiers with two hits and a run in the game.
Nebraska struggled with a hitless inning in the fifth but made up for it with two hits and a Scott Schreiber sacrifice fly that scored Angelo Altavilla. The Huskers took their first lead in the seventh inning when Jesse Wilkening singled through the middle to bring in Alvarado, and while Indiana would add one more run to tie it, the Huskers would not look back after the eighth-inning explosion.
"We were fighting the whole game," said Alvarado in his post-game interview on BTN. "Everyone was putting in the work that we've been doing the whole year into every single at-bat, so it felt good as a team."
While the bats were hot with 11 hits on the evening, junior pitcher Jake Hohensee locked it down on the mound, extending his winning start over 7.1 innings and 100 pitches, scattering eight hits, striking out five and not walking a single batter. Hohensee's start was yet another strong one for a Husker pitcher, keeping the average ERA for Nebraska's weekend lineup under 2.60.
"You can see his mentality," Erstad said of Hohensee, who had his fourth straight start over six innings. "Just a really gutsy effort. No walks on the road in a conference game gives yourself a chance."
Erstad and the players stressed that the series with Indiana would be several "knock-down, drag-out games." Friday's game was tied 3-3 headed to the eighth inning, but the bats - along with Hohensee, some big relief outs from Nate Fisher, and a one-pitch save by Chad Luensmann - finished the job down the stretch.
"The attention to detail we have later in the game, we have to have that the whole game," Erstad said. "It was pretty good to come in here and get this done, but we're going to have our hands full tomorrow."
Saturday's first pitch from Kaufman Field in Bloomington, Ind., is set for 1:05 p.m. The Huskers will be looking to clinch their fifth straight Big Ten series win before Sunday.