Huskers pick up surprise WR commit in Lundie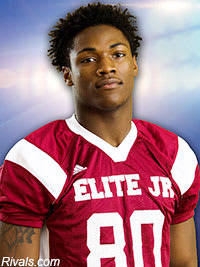 "He committed to Nebraska about 30 or 35 minutes ago," Johnson said of Lundie. "Coach Warren has been on him for a while now. Nekyle actually transferred to our school this summer from a previous school and (Warren) recruited him there. I think the lines of communication became a lot clearer once he came here.
"So Coach Warren had actually been recruiting him for a second now. Once (Nekyle) came over to our school it became a little bit easier for Warren to get in touch with him."
Lundie had quite a few options on the table even though he just recently transferred from Tucker High School to Stephenson. However, Lundie was drawn to the Husker brand of football according to Johnson.
"He had Nebraska, Georgia Tech, Indiana, and a bunch of other schools, but I think at the end of the day he liked Nebraska's brand of football over some of the others," Johnson said.
Another factor in play for the Huskers was Warren and his relationship with the Stephenson coaching staff and the relationship he built with Lundie. Johnson said that he's personally known Warren for five or six years and knows what he stands for.
As for the type of player the Huskers are getting in Lundie, Johnson had high praise.
"Big and intense," Johnson said about Lundie. "You're talking about a big, physical receiver that is about 6-foot-1, 6-foot-2, and is about 215-pounds. I think the best thing about him is probably his blocking. Every receiver wants to catch the ball, but Lundie has the skill set and is big enough that he doesn't have a problem blocking. I think that is unique in a kid. He's a fast kid, very athletic, and I mean he's just a kid that works very hard."

[rl]