Huskers offer 2019 Scottsbluff pass rusher
When Scottsbluff's Garrett Nelson showed up to the Rivals camp and combine in St. Louis less than a month ago he was an unknown commodity.
Since putting his name on the national stage that day in St. Louis the 2019 defensive end/outside linebacker prospect has seen his stock rise as fast as any player in the state. The 6-foot-3, 235-pound Nelson started the day by earning offers from both South Dakota and South Dakota State after NU's Big Man camp, and he finished the day by earning a verbal scholarship offer from Nebraska head coach Mike Riley.
"We just got done with the one-on-ones and Coach Mike Riley pulled me aside and said we are going to take a look at your transcript, but if it's up to me, we are going to do everything in my power to bring you to the University of Nebraska," Nelson said. "After we got done and broke from the defensive line, Coach (John) Parrella dragged me over to Coach (Bob) Diaco and he said the same thing. He said we want to look at your transcript, but he said next week when you come back on a recruiting trip to Nebraska you'll most likely be a scholarship offered athlete at the University of Nebraska."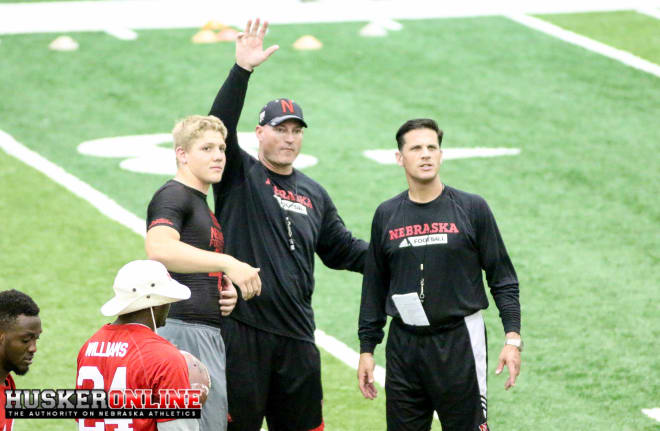 As for committing, Nelson didn't pull the trigger on Friday night, but he will be back in Lincoln again next week for Big Red Weekend on Saturday.
"It was definitely a dream to get an offer here, and a surreal experience," Nelson said. "I'm really excited."
As Nelson received the offer on Friday, he came to tears, as he hugged his father Chris reflecting on the journey.
"Just all the hard work and late nights not knowing if I'm working hard enough, it's all paid off now," Nelson said. "You always wondered if you are doing the right things, but it's definitely paid off now."
Nelson said Diaco wants him to play the boundary outside linebacker position in his 3-4 defense, where you play both in space and on the line of scrimmage.
As Nelson and his dad make the drive back to Scottsbluff on Saturday, they're definitely going to have a lot to think about.
"I'm going to take my time and decide what college wants to develop me as a person and academically and a better father to my children and a better husband to my wife and academically expand my horizons," Nelson said. "Football will handle itself, but college will make me feel most comfortable and develop me as a person."