Huskers no match for Badgers in Big Ten debut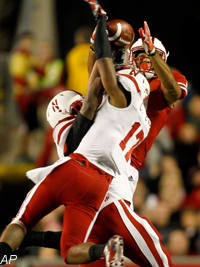 MADISON, Wis. - Nebraska had a chance to make a major statement on a national stage on Saturday night, but it ended up with a humbling embarrassment instead.
After a decent start to the game, the No. 8 Huskers completely collapsed midway through the second quarter, allowing Wisconsin to go on to score 34 unanswered points in what ended in a 48-17 Badger blowout.
Russell Wilson
ended the night 14-20 passing for 255 yards and two total touchdowns, as Wisconsin put up 486 yards of total offense against a Nebraska defense that looked simply overwhelmed all night long.
On the other side,
Taylor Martinez
fell right back into the same problems that plagued him last season. Never quite able to get comfortable in the pocket, the sophomore threw three interceptions and fumbled once.
"I'm embarrassed with how we played defensively," head coach
Bo Pelini
said. "I'm embarrassed. I apologize to the fans of Nebraska, because that was a joke. It's plain and simple."
The first half started just the way Nebraska had hoped, but things went South in a hurry by the time the teams went into the locker room at halftime.
The Huskers struck first on a fortuitous series of events that took up a total of 16 plays and ended with a 1-yard touchdown run by Martinez. After NU was initially forced to punt, it got the ball right back when
Jared Abbrederis
fumbled the return at the Wisconsin 39-yard line.
Six plays later, fullback
Tyler Legate
fumbled deep in Badger territory, but tight end
Kyler Reed
was there to fall on it and preserve the drive. Martinez eventually barreled into the end zone on an option keeper to make it 7-0 with six minutes left in the first quarter.
Wisconsin's offense quickly answered right back, as running back
Montee Ball
rushed seven times for 37 yards on the ensuing drive, including five straight rushes, capped off with a 1-yard touchdown of his own to tie it up.
Facing a second-and-21 from their own 15, Martinez bailed the Huskers out with a 29-yard pass to
Quincy Enunwa
for a big first down. Four plays later, Martinez hit tight end
Ben Cotton
over the middle for a 28-yard strike that went down to the goal line.
Burkhead finished the drive with a 1-yard touchdown run, and Nebraska found itself leading the Badgers 14-7 early in the second quarter.
From there, however, it was all Wilson and Wisconsin.
Behind some impressive throws and elusiveness by the senior transfer from North Carolina State, the Badgers went on a 20-0 run to close out the first half. Wilson was almost perfect during the run, as he followed up another Ball touchdown run with a 36-yard scoring toss to Abbrederis and then a 46-yard bomb to senior wide out
Nick Toon
with 32 seconds left in the half to make it 27-14.
Nebraska had a chance to make it a 10-point game, but a 50-yard field goal attempt by junior kicker
Brett Maher
sailed wide right to end the half.
Wilson was brilliant through the first two quarters, completing 12-of-16 passes for 233 yards and two touchdowns. Martinez, on the other hand, turned a good start into a dismal finish to the half, helping the Badgers pull away with back-to-back interceptions.
The second half started off as badly as the first ended for Nebraska, as Martinez was picked off on the first play of the third quarter, marking his third interception in four possessions. From there, Wisconsin simply ran the ball right down NU's throat, converting a fourth down run to set up a 10-yard touchdown bootleg by Wilson to make it 34-14.
"We just didn't play very good," offensive coordinator Tim Beck said. "I didn't do a very good job. We didn't execute very well. We had penalties and turnovers. You can't have that in a game like this, and we had it. It falls on me. I'm the offensive coordinator, and I take the blame. We just weren't ready. I thought we were ready, but we weren't."
Ball added another touchdown from four yards out to make it 41-14 with a little less than three minutes to go in the third. Nebraska finally ended the Badger scoring run with a 32-yard field goal with 13:35 left in the game, but it was hardly anything worth celebrating for the Huskers at that point.
Ball made the score even worse with five minutes left with his fourth touchdown of the night to make it 48-17 before the extra point. Ball ended the night with 30 carries for 151 yards to go along with his four scores.
Having been thoroughly introduced to the Big Ten on Saturday, Nebraska will try to right the ship in its first conference home game next week against Ohio State. Until then, the Huskers will have to find out what the heck happened in Madison and a way to figure it out in a hurry.
"Guys have to make plays," Pelini said. "Guys' got to compete. I'm not going to sit here and name names, but we've got to coach them better and they've definitely got to play better. We're going to keep looking for the right combination, because right now we haven't found it."
- Robin Washut
Quick hits
***Despite all of Martinez's struggles on Saturday night, Beck said the coaching staff never considered pulling him from the game in favor of back-up
Brion Carnes
.
***Freshman running back
Braylon Heard
was left off Nebraska's 70-man travel roster this weekend. Beck said Heard got sick last week, but wouldn't go into any detail.
***The 31-point loss marked the Huskers' biggest defeat since falling to Oklahoma 62-28 in Norman back in 2008.
***Pelini is now 5-8 against ranked teams at NU, and only 1-6 against top-10 foes.
***Pelini was especially disappointed with the number of penalties Nebraska committed in the loss. The Huskers committed a season-high nine total penalties for 80 yards, many of which coming at crucial points of the game. They came in averaging just 4.5 penalties per game on the year.
"I think we started with three drives in a row with penalties that set us back," Pelini said. "Like I said, I thought that got us off schedule a little bit. We hurt ourselves offensively with penalties. I thought we were doing some good things offensively, and obviously because of how our defense played, it kind of changed the game."
***Wilson obviously put up huge numbers on Saturday night, but defensive coordinator
Carl Pelini
said many of them were a result of Nebraska's mistakes than Wilson's play alone.
"He's a very good player, but we've played other good quarterbacks and they certainly didn't make us look foolish like that," Carl said. "That's on us. He's is who he is, and we have to defend that. We should be able to."
Carl added:
"He got in such a good rhythm because guys were running wide open. I could've made some of those throws. He's a good quarterback. I'm not taking anything away from him, but a lot of quarterbacks could've made those throws. He was finding wide-open receivers."
***Bo said there were some plays left on the field by Nebraska that could've changed the course of the game, especially on the defensive side of the ball.
"I don't think we made a play on the ball the whole first half," Bo said. "There were a couple of them I thought were going to get picked off. I thought we were going to get a couple interceptions, and they come down with it. You've got to make plays in this game. They did and we didn't."
***While the players were obviously upset over their performance after the game, all seemed confident the team would be able to bounce back next weekend.
"You just go back to work," tackle
Jeremiah Sirles
said. "It's Game 5, and we have more games coming up. We've got the whole Big Ten season ahead of us. You can't go in the toilet. You can't go in the tank. You just keep working."