Huskers land four-star OL Barnett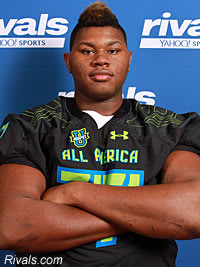 Newly named Nebraska head coach
Mike Riley
and his coaching staff certainly haven't wasted any time getting things going on the recruiting trail.
Less than 24 hours before the contact period begins on Thursday, Riley and offensive line coach
Mike Cavanaugh
scored a commitment from Lawton (Okla.) four-star offensive lineman
Jalin Barnett
.
The 6-foot-3, 300 pound Barnett resides from the same high school that produced Husker legends Will Shields and Mike Minter.
"Yes sir, (Barnett) just hung up my phone with Coach Riley," Lawton offensive coordinator Ryan Breeze said. "He talked to Coach (Cavanaugh) about an hour or so ago and told Coach Cav that he was ready to commit to Nebraska.
"Coach Cav asked Jalin if he wanted to talk to Coach Riley or if he wanted Coach Cav to relay the message. Jalin said he wanted to be the one to tell (Riley) so they just got ahold of Coach Riley not more than five minutes ago."
The 6-foot-3, 303-pound Barnett had been planning on taking one final official visit to Oklahoma State this weekend, but came to the conclusion yesterday that he knew where he wanted to play his college football at.
Breeze said the biggest reason Barnett decided to commit to the Huskers was the relationship he had with Riley and Cavanaugh.
"I think the biggest deal was that Coach Riley and Coach Cav were the first school to offer him," Breeze said. "Oregon State was his first offer and they just stayed on him this whole time. They recruited him since he was a sophomore. I want to say they offered him the spring of his sophomore year.
"Jalin was the earliest Oklahoma kid to get an offer in recent history. Want to say since the inception of Rivals at least. So they recruited him the whole time and stayed with him. (Barnett) visited and he had a great visit, he really liked it. He fits what they want to run so he went ahead and committed.
"He told our o-line coach yesterday that he was ready to commit, that he had made his mind up. So this afternoon is when it all happened."
This isn't the first time Riley and Cavanaugh have pulled talent out of Lawton and probably won;t be the last according to Breeze who has high praise for the new Nebraska coaches.
"We just got to know (Riley and Cavanaugh) really well," Breeze said. "We've sent a couple of kids out (to Oregon State) with them and Coach Cav will come to a game in the fall. He'll come out for spring ball in May and we've developed a good relationship with him that way. Then of course with (Cavanaugh) being assigned to Oklahoma while he was at Oregon State and us having Jalin, he's worked it real hard for the last three years.
"Coach Riley, I mean you can't help but want to go play for that guy. He's a heck of a recruiter and he's as good of a man as there is and he's a very good football coach on top of that. When our two kids went to Oregon State initially, they had six sets of brothers on the team. That's unbelievable that people feel that strongly about Coach Riley to send two of their kids to him."
Breeze says Barnett has multiple strengths to his game that should help him fit right into Nebraska's system under Riley.
"Putting his hand in the ground and coming off, firing off of the line of scrimmage and moving people," Breeze said of Barnett's strengths as a player. "That was a big deal in Nebraska's recruitment of him. They'll do some gun, but they'll also do some under center and Jalin has great feet.
"He pulls well and when they're under center Jalin will move people. He's got good enough feet that he does pass protect well, but his bread and butter is going to be firing off the ball and reestablishing the line of scrimmage down the field."
Barnett's pledge gives the Huskers now 15 verbal commitments in their 2015 signing class, with four of those 15 players already enrolled in classes at NU. In all the Huskers looks to sign a recruiting class of around 20 prospects.
Barnett is the first player to commit to Nebraska from the state of Oklahoma since the class of 2005, when former head coach
Bill Callahan
landed both linebacker
Phillip Dillard
and offensive lineman
Craig Roark
.

Click
Here
to view this Link.