Huskers land commitment from Xavier transfer C.J. Wilcher
After several departures to the NCAA Transfer Portal this offseason, Nebraska picked up a notable addition on Friday by landing Xavier transfer C.J. Wilcher.
Nebraska immediately reached out as soon as the 6-foot-5, 195-pound guard hit the portal last week, as NU assistant Matt Abdelmassih recruited Wilcher both at St. John's and then with the Huskers out of high school.
Wilcher told HuskerOnline.com that his relationship with the staff made Nebraska the team to beat as soon as he decided to transfer, and there wasn't a close second.
"I've always said, if I didn't commit to Xavier, I would have gone to Nebraska just because of the relationship I have," Wilcher said. "I've always liked their play style, and I've done my due diligence on Coach (Fred) Hoiberg and saw what he did at Iowa State and really liked it. I knew it would be a great fit.
"Honestly, Nebraska was a leader from the day I went in (to the portal). I heard from other schools, but Nebraska was always the leader. I don't anybody else was even contenders, really. I was already head of heels about coming to Nebraska."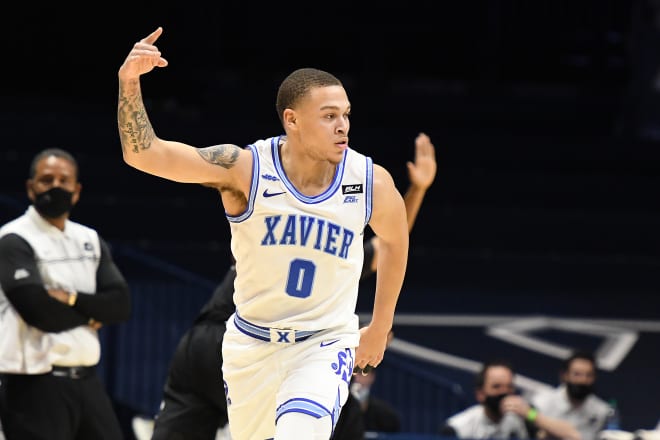 Wilcher initially chose Xavier over Nebraska, St. John's, DePaul, Harvard, and Yale.
A former four-star recruit coming out of Plainfield (N.J.), Roselle Catholic, Wilcher only played in 15 games with one start and averaged just 3.3 points in 10 minutes per game as a true freshman for Xavier this season.
But Wilcher played his best basketball at the end of the year and was expected to be a significant part of the Musketeers' future starting in 2021-22.
While he enjoyed his time with the Musketeers and playing under head coach Travis Steele, Wilcher said he felt it was in his best long-term interest to find another opportunity.
"I think next year I would have had a bigger role at Xavier, but I just felt like my opportunity would be greater somewhere else," Wilcher said. "Being able to play my game and play freely and not have to overthink things, that kind of went into it.
"That's kind of what I was dealing with at Xavier. I have nothing bad to say about them; I loved my time there. But it didn't fit the plans I had for my future."
Wilcher was rated the No. 133 overall player in the final 2020 Rivals150, but he was as high as 101 before his senior season.
Regarded as one of the nation's best 3-point shooters in his class, Wilcher said Hoiberg's five-out offensive system would be an ideal match for his game.
"I think it's going to be a great fit because, one, Coach Hoiberg is a shooter, and I can really shoot the ball. Also, the spacing on the offensive end and the opportunities to use my entire skillset.
"I was watching a few games, and he really lets the guys play and play through mistakes and make basketball plays. That's my game, in my opinion. Just being able to play basketball freely and do instinctive things and make winning plays."
Wilcher was well aware of the veteran lineup Nebraska has returning next season and the highly-touted 2021 recruiting class already in place. But his conversations with Hoiberg and Abdelmassih made it clear that he would have every chance to make an immediate impact next season.
"I feel like the opportunity is great at Nebraska, and that's what I really wanted," Wilcher said. "Just the opportunity to play basketball to the best of my ability. I just want the opportunity to do that where, at the end of the day, the ball's in my court."
Nebraska now has three available scholarships for the 2021-22 season.
It should also be noted that Wilcher's younger brother is Simeon Wilcher, a 2023 five-star point guard at Roselle Catholic who is ranked the No. 8 player in the country.
Wilcher said the recruiting process to get his younger brother to join him in Lincoln had already begun.
"It's started already," Wilcher said. "I just talked to him about it this morning. I played with my brother my senior year of high school, and that was probably the best experience, basketball-wise, that I've ever had in my life.
"That's something I would like to do at the college level, to be able to make his transition as easy as I possibly can like I did for his freshman year of high school. So the recruitment has started already. I talked to him about it this morning, and I'm probably going to talk to him about it tonight."