Huskers land commit from JUCO LB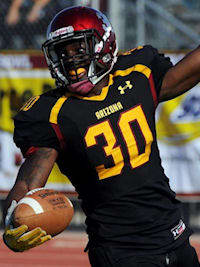 "I just talked to the coaches about 20 or 25 minutes ago and I did verbal commit to them," Johnson said. "I really feel that Nebraska is the school for me and I just want to let them know that I really love Nebraska.
"I've been thinking about (committing) ever since I got the offer. I talked it over with my head coach and I told him that I feel that Nebraska has a very good program and that they were always a top school of mine that I had wanted to go to. I just said that I felt it was a really good school for me and I told him that I wanted to commit to Nebraska. He told me that if that's what my decision was then that's what I needed to do. He said that I had to do what was best for me."
"I called up Coach Bray and we were talking for a while and I told him that I wanted to commit," Johnson said. "Then I talked to the defensive coordinator, Coach Banker. They said that they were very excited that I wanted to commit to Nebraska. They just sounded very excited about it."
Johnson said he never thought that his recruitment would go quite like this and he was just completely overwhelmed since the moment he landed the offer from Nebraska.
"The offer from Nebraska, they came out here and when (Banker) saw me he just liked me and they called me last Thursday or Friday and offered me," Johnson said. "To me, the offer came by surprise. It really shocked me when he called me and offered me.
"Honestly it was all really a shock to me because Nebraska has always been one of my top five schools that I've always liked. So knowing that I could have the opportunity to play there and be a Cornhusker was amazing. I was just overwhelmed actually, just to know that I could actually end up going to Nebraska to play for them."
Johnson said that Banker and Bray have told him that they like his speed and they think he'll be mature enough to come in and compete for playing time right away.
"They said that coming from junior college that I'm a mature guy and that I know kind of how the college atmosphere feels and that I could come in and be a good addition to their defense," Johnson said. "We haven't really talked specifics on what linebacker position yet, but they said that I really fit and would be a good addition to their defense and everything."
Johnson said his speed is what really separates him from others on the field and it allows him to be an active playmaker.
"I really try to be in on every play," Johnson said about his style of play. "I try to use my physical ability and my speed to get to the ball. A strength that I have is that I have real good speed and I just make plays honestly. My speed really helps me a lot.
"I feel that speed these days is really important. Just because you're a strong guy doesn't mean that you're going to make all the plays, but I feel my speed just helps me get around to do everything."
In addition to Nebraska, Johnson had early offers from Washington State, Florida Atlantic, and South Alabama. The Pompano Beach, Fla. native is a 2-for-2 transfer and is on track to graduate in December.

[rl]