Huskers hold off Bulldogs to win Gator Bowl 24-19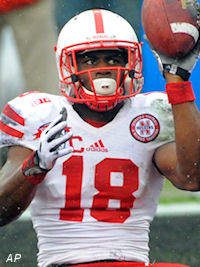 JACKSONVILLE, Fla. - In a game many felt would be decided by which team wanted it more, Nebraska showed it still had plenty of fight left in it in Wednesday's Gator Bowl showdown with Georgia.
Leading by 12 early in the fourth quarter, the Huskers needed a fourth-down stop with just 25 seconds remaining in the game to hold off the Bulldogs for a 24-19 victory and snap a three-game bowl losing streak.
"What we talked about, we said, 'Let's go win this thing,'" head coach
Bo Pelini
said. "Let's not go out there to worry about losing. Let's take control of this football game and go make plays. And they did. Our guys had a tremendous amount of confidence. They prepared well. Our guys, they had their fun, but the preparation both before Christmas and since we've been down here was good. When you have great preparation, you're going to execute well. That's what it came down to."
Nebraska's defense definitely came ready to play, as it contained star running back
Todd Gurley
and Georgia's offense and kept the Bulldogs out of the end zone throughout the first half. Both teams struggled to move the ball in the first quarter, but Georgia got on the board first with the first of three field goals by
Marshall Morgan
from 38 yards out to make it 3-0 with 10:37 left in the second quarter.
The Huskers would quickly answer, though, and ironically it came with the help of something that has plagued them all year long - a special teams miscue. After a very quick NU three-and-out, Georgia's
Reggie Davis
muffed a punt deep inside Bulldog territory, and Husker gunner
Josh Mitchell
dove on the ball at the UGA 14-yard line.
Two plays later, redshirt freshman quarterback
Tommy Armstrong
found a wide-open
Quincy Enunwa
in the end zone from four yards out for the go-ahead touchdown. The score wasn't exactly easy, either, as Armstrong was hit as he threw it and Enunwa had to dive in the opposite direction to his right to make an impressive catch.
Georgia's special teams quickly atoned for their mistake, with
J.J. Green
returning the opening kickoff 48 yards to set up another field goal by Morgan that cut the lead to 7-6 with just under seven minutes left in the half. Nebraska answered with a career-long field goal by
Pat Smith
from 46 yards out on its next drive, but Morgan knocked in his third field goal of the day as time expired to send the game into halftime with NU leading 10-9.
Nebraska threw the ball just nine times in the rainy conditions, as Abdullah led the way with 64 of his game-high 122 rushing yards in the first half. The Huskers were just 2-of-7 on third-down conversions in the half, but Georgia's one big mistake on the fumbled punt was the difference.
Things continued to work in Nebraska's favor to open the third quarter. Once again, Mitchell came up with a huge play by picking off Georgia quarterback
Hutson Mason
near midfield on the opening drive and returning it to the Bulldog 38. A key pass interference call against UGA on third down extended NU's drive and set up first-and-goal at the four, and Abdullah leaped over the goal line on another third-down run to give them their biggest lead yet at 17-9 with 10:08 left in the third.
A short pass and 30-yard run after the catch by Gurley helped Georgia set up a first-and-goal from the NU 10, but the Huskers' defense rose to the occasion when they needed to and held the Bulldogs to another field goal by Morgan from 30 yards out to make it 17-12 with 6:32 remaining in the third.
It looked like the momentum was seriously starting to swing back in Georgia's favor after a block in the back penalty on the ensuing kickoff pinned Nebraska at its own four, and then Armstrong fumbled a snap and barely kept the ball out of the end zone to put NU in a third-and-14 from the half-yard line. That momentum shift came to an abrupt end, however.
Under the shadow of his own goal line, Armstrong launched a deep pass down the right sideline to wide-open Enunwa, similar to the play they ran at Penn State. Enunwa hauled in the pass, bounced off the last defender in front of him and took it 99 yards to the house for an NCAA, school and Gator Bowl record touchdown to give the Huskers a 24-12 lead.
Enunwa ended the game with four catches for 129 yards and two touchdowns, earning him the Gator Bowl's Most Valuable Player award. The 99-yard score also gave Enunwa the school record for touchdown receptions in a season with 12, passing Johnny Rodgers.
"It was kind of just one of those calls where you don't have too many options out there, stuck on your own one yard line," Enunwa said. "Luckily our coaches trust in us as play‑makers. I knew either myself or Kenny (Bell) was going to come up with a big play. They play cover two, so I was able to get into the hole. Tommy launched it out to me. From then on, I tried to make a play as best as I could."
Just when it seemed like Nebraska was in the driver's seat, turnovers came back to bite the Huskers once again when Armstrong was picked off by
Shaq Wiggins
at the NU 39-yard line on their next possession. The Bulldogs were finally able to capitalize and put the ball in the end zone on a 25-yard touchdown pass to Gurley that cut the lead to 24-19 with 14:49 left in the fourth quarter.
Georgia struck again a few minutes later with a 48-yard pass to
Michael Bennett
that got the ball all the way down to the NU 14, but an incomplete pass on fourth-and-two gave the Huskers the ball back with 4:48 remaining. Nebraska was unable to take much time off the clock after a quick three-and-out, and the Bulldogs reclaimed possession at their own 38 with just over three minutes to play.
On the first play of the drive, Mason hit wide out
Chris Conley
for a 29-yard pass that moved the ball to the Nebraska 33. The Bulldogs then converted a fourth-and-one before being faced with another fourth down situation from three yards out with 31 seconds to play. This time UGA was not able to capitalize, though, as Mason's pass over the middle to tight end
Arthur Lynch
- who had made six catches for 69 yards up to that point - was dropped for a turnover of downs.
The Huskers kneeled out the rest of the clock from there out of the victory formation to clinch their first bowl win since 2009. Nebraska ends the season with a record of 9-4, extending its streak of consecutive nine-win seasons to six under head coach
Bo Pelini
. While the Gator Bowl trophy may not have been the award NU wanted to hoist going into the season, the mass team celebration at midfield following the game showed it was still a special ending to a long and turbulent season.
"I'm proud of these guys next to me," Pelini said. "I'm happy for them, the seniors. I'm happy for them. We went through a lot this year. It was a difficult year. Obviously with the amount of injuries, the adversity, the obstacles that this team faced, they deserved to go out the way they did, to go out with a win against a good football team, a good football program... Hopefully this will be a nice springboard into the off‑season."