Huskers hit daily double as Wilson chooses NU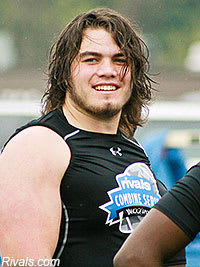 Wilson, a 6-foot-2 and 277-pound offensive guard, said that his future position coach was a key factor why he chose the Huskers over his other finalist of Louisville.
"My mom and my step-dad and my dad and my step-mom all went along with my siblings. The whole family went. We were really amazed by how we were all treated while on the visit. That was another big reason for me. I was looking for a real, tight family environment."
Where Wilson will fit in along future NU offensive lines didn't play much of a role in his commitment decision. Wilson says he is ready to do what he's asked of him and he is looking for the instruction to take his game to the next level, regardless of which position he eventually plays at Nebraska.
"Obviously, they are looking at me to play at either the guard or the center position. I know that they are going to look at what's best for me and for the team when it comes to which position I will play at Nebraska."
Nebraska unquestionably had a lot of things in their favor when it came to landing Wilson, like the relationship and respect that Wilson has with his future position coach and the strong family environment the Huskers displayed to him.
There was a strike against NU when it came to Wilson's deliberations regarding the Huskers, but other considerations overrode that concern.
"There was one big thing holding me back from choosing Nebraska early on," Wilson said. "I wear No. 64 and then I found out that number is retired at Nebraska.
"I really wanted to wear that number in high school and in college. But after I thought more about it, I thought it would be cool to get another number retired -- depending on which number I get."