Huskers have their eye on talented, in-state sophomore
In a year where Nebraska will take about half of the number of recruits in the recruiting class than they typically do they are paying attention to some of the younger players in the state. The Huskers are the first school to show three-sport athlete Carter Nelson from Ainsworth (Neb.) any attention for football.
The 6-foot-4 and 205-pound Nelson was in Lincoln for the Buffalo game. Nelson was very impressed by the different view as a recruit that weekend.
"It was really fun," Nelson said. "I have always went to games but being on the field and hearing the roar of the crowd when the team came to the field was such an amazing experience."
Nelson plays receiver/tight end, quarterback and is also a standout defender for Ainsworth. He doesn't really have a preference which position he plays in college.
"It sounds like Nebraska's primary interest in me is as a tight end. It's hard to tell if that's my preference because I am still young and my body hasn't completely developed muscle-wise. So it's hard to tell what it will be but I will play whatever position I am needed at."
While Nelson doesn't have a preference which position he plays in college he does like the fact that Nebraska sees him as a tight end. He watched how Nebraska used the tight ends in the game against Buffalo.
"I like the way that Nebraska uses and puts the tight end in their offense," Nelson said. "I think Nebraska's offense is starting to click some."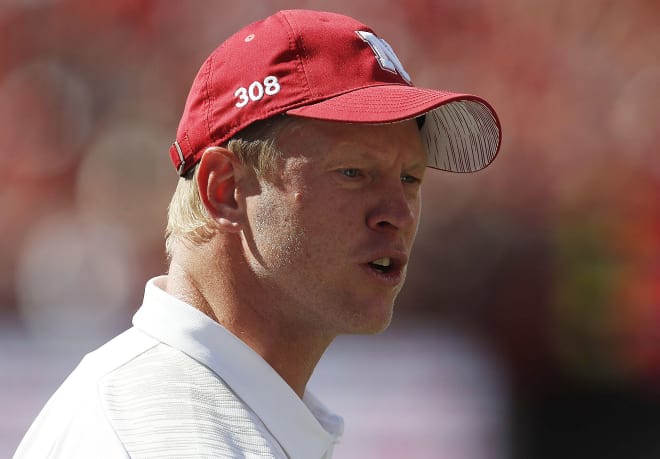 The Ainsworth team is off to a rough start. They are young and also plagued by injuries according to Nelson.
"We are 1-4," Nelson said. "We have had a lot of injuries that have effected us. We are really young and we have a lot of potential; we just haven't gotten it to click yet. We are just getting better."
Nelson is having an impact all of the field for Ainsworth. He has seen some time at quarterback but is clearly a threat catching the football.
"I have 161 yards passing with a touchdown and two interceptions.. I also have 16 receptions for 302 yards and five touchdowns. On defense I have 21 total tackles, 12 solos, three tackles for loss, two sacks and an interception."
There are no offers yet for Nelson. He says that he has gotten some attention for a couple of sports by some smaller schools. Nebraska is the only school to notice him for football though.
"I don't have any offers for college yet," Nelson said. "Nebraska is the only school that has shown any interest in me for football. I had a couple of D2 schools show some interest for basketball and track. No offers though."
Nelson burst on the scene last year in track. He set a school record and was catching peoples' attention at state track.
"I set a school record jumping 6-foot-8.75 in the high jump as a freshman. The other event that I have had some success in is discus. Along with football I also play basketball."