Huskers get surprise commitment No. 14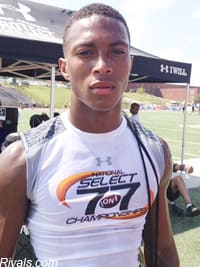 Nobody could've predicted this commitment for Nebraska.
The Big Red landed a verbal pledge from Spanish Fort (Ala.) cornerback
Jonathan Cook
on Thursday night, to push their class of 2013 total up to 14 commits.
The 6-foot, 185 pound Cook chose the Huskers over offers from BCS schools Kentucky, Ole Miss, Mississippi State, Louisville, Penn State and Minnesota. Cook also received a gray shirt offer from Alabama head coach
Nick Saban
after he was one of the top standouts at their camp this past June.
Cook informed NU secondary coach
Terry Joseph
and head coach
Bo Pelini
of his commitment shortly before the Huskers took the field for their evening practice on Thursday.
"He said I made his day," Cook said of Joseph's reaction when he committed.
"I hadn't actually talked to their coaches until last month and they offered me and I just talked to my parents about them because I liked them a lot. They have a good fan base and I really liked everything about Nebraska."
Cook said he grew up naturally a fan of the Crimson Tide, but since they could only offer him a gray shirt that's why he decided to leave the state.
Earlier this summer at their camp he ran a 4.55 second 40-yard dash, and he clocked 4.53 seconds at Ole Miss's camp.
"Alabama offered me a gray shirt and they wanted me to enroll all the way in 2014," Cook said. "I didn't really like that. I went to the Alabama camp and I thought I was one of if not the best guy at their camp. They said they already offered all their corners, so they were up against the numbers."
Cook has yet to visit Lincoln, but he has his official visit set up tentatively for the Michigan game on Oct. 27.
"I haven't been up to Nebraska, but I have seen their facilities and stuff on YouTube," Cook said. "It just gave me a good idea of what everything looked like and stuff like that.
"Nebraska is something different. I just want to go somewhere that I can play. They have a good corners coach and they've sent a lot of corners to the NFL. I think I fit in with what they do on defense."
One thing Cook did clarify though is he does plan to take some other official visits during the fall, which has become a common trend this year in recruiting.
With so many early commitments in the class of 2013, other prospects are being forced to make their decisions at a much more rapid pace because classes are filling up at the top programs around the country.
"I am going to take all five of my official visits to other schools," Cook said. "I want to make sure I check out some other schools too."