Huskers get surprise commitment from Tennessee transfer Walker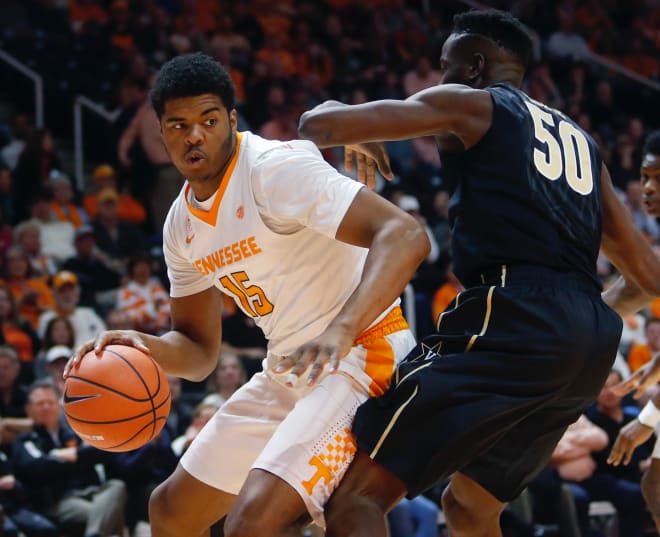 Tennessee transfer Derrick Walker took an official visit to Nebraska last week and hardly anyone but he and the Huskers' coaching staff knew about it.
A week later, the 6-foot-8, 236-pound junior power forward announced his commitment to NU via social media, providing a surprising exclamation point on a wild past few days for head coach Fred Hoiberg and Co. on the recruiting front.
A former 2017 three-star recruit out of Kansas City, Mo., who attended Sunrise Christian (Kan.) Academy, Walker becomes Nebraska's fourth signee over the past six days, joining Shamiel Stevenson, Yvan Ouedraogo, and Kevin Cross.
He told HuskerOnline that he plans to redshirt the 2019-20 season and then have two years of eligibility remaining.
Walker said it was a previous relationship with NU assistant and lead recruiter Matt Abdelmassih that put the Huskers on his radar once he got his release from Tennessee, and it didn't take long for his visit to sell him on Lincoln being his new home.
"I've always known Matt and had a really good relationship with him," Walker said. "He recruited me to St. John's, so we had built a relationship before I committed to Tennessee. He's a good guy and he always kept in touch with me, so there's a good connection between me and him and we have a really good relationship. That being said, once I entered the portal, he continued to recruit me, and we just continued our relationship."
Walker played in 34 games as a freshman at Tennessee and averaged just 8.8 minutes off the bench. As a sophomore he saw action in 30 contests but again saw limited playing time, averaging just 5.3 minutes.
The lack of opportunity plus being so far away from the Midwest eventually led to him deciding to move on from UT.
"I loved Coach (Rick) Barnes, I loved the staff there and my teammates," Walker said. "We had a great run, but I just felt I needed a fresh start."
On his official visit to Nebraska, Walker was impressed not only with his connection to the coaches and NU's first-class facilities, but also the family atmosphere he felt within the program and around the city.
"It just seemed like a great situation that they've built, and (Hoiberg) is a great coach and he does great with transfers," Walker said. "There was just a lot of love in the city, especially for their sports, so it felt like a great place to start over. The assistants to the head coach, they're all great men and they care about their relationships with the players. I loved that a lot. They're ready to develop me as a player and also as a man."
While Walker's career at Tennessee never really got off the ground, he's a veteran presence who is ready to flourish in his role in Hoiberg's system. He'll also turn 22 years old in November, meaning he'll be 23 by the time he plays in his first game as a Husker.
Walker was originally part of the 2016 recruiting class but reclassified to 2017. He averaged 14 points and seven rebounds during his post-grad year at Sunrise Christian.
"I'm a guy that's going to give you my all; every practice, every game," Walker said. "I can defend, I can rebound; I can be a junkyard dog if you want me to be. I can be a vocal leader. I bring a lot of versatility to the game. I like to think that I can do it all: I can pass, I can put the ball on the floor, I'm developing a consistent jump shot, I can play above the rim, and I can defend and rebound at a high level."