Huskers gain commit No. 11 from Georgia DB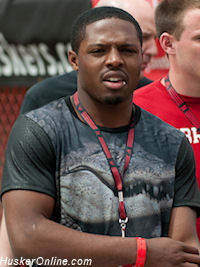 Actions often speak louder than words and Atlanta (Ga.) Carver safety
Aaron Williams
' decision to commit to Nebraska tonight is a great example of that.
The 6-foot-0, 185-pound Williams is a quiet kid off of the football field and not one to draw a lot of attention to himself. That is why few knew he was going to announce his college decision on the night of his high school spring game. However, Williams' play on the field is loud and often times down right violent which is why he had more than 10 early offers to his name.
Williams announced his intentions to play for Nebraska tonight over the likes of Ole Miss and Wake Forrest who were among his other favorites.
"Yeah, I just announced it," Aaron Williams said over the phone in a loud locker room at the halftime of his spring game.
"It is a great fit for me. I liked their facilities and the program they have going on out there. I get along with Coach Warren real good."
His decision was undoubtedly influenced by his trip to Lincoln for Nebraska's spring game in April where he gave HuskerOnline.com somewhat of a foreshadowing comment following his trip.
"I could see myself playing here. I mean, I really could," Williams said.
The talented safety also admitted that his parents where pleased by what they saw during their time in Lincoln as well.
"Oh, they loved it," Williams shared, "especially my mom. I think she liked the facilities the most because she hasn't quit talking about them yet. Because she thought Nebraska was just the country and she didn't expect their facilities to be so amazing."
Williams joins cornerbacks
Avery Anderson
and
Eric Lee
as defensive back commits in the Huskers' top 10 rated recruiting class. Williams hit it off with Anderson and Lee as well as running back commit
Kendall Bussey
during NU's spring game.
Another large reason Williams decided on the Huskers can be directly attributed to his relationship with his lead recruiter and future position coach
Charlton Warren
, who is also a native of Georgia.
"We hit it off as soon as we met," Williams said of Warren. "He is just a real nice person, very down to earth. He relates to me well."
Aaron Williams father, Ernest Williams, confirmed to HuskerOnline.com that his son would be announcing his decision to play for Nebraska at halftime of his high school spring game Thursday evening.
"Yes, that's true," Mr. Williams stated. "He will be doing that at halftime and they are in the first quarter now."
Mr. Williams explained why his son decided to play his college ball as a Nebraska Cornhusker.
"Aaron just liked it, he liked the fit at Nebraska," Mr. Williams explained. " Once we went out there, he was just able to see that for most of those schools, a DI school is a DI school.
"So he needed to go with the system that would fit his style of play and he just pretty much fit Nebraska's defensive style of play. They said they would use him as both a free and strong safety, but really more as a nickel. So he can play the corner, the free or the strong."
New Nebraska secondary coach
Charlton Warren
was Aaron's main recruiter and those Georgia ties paid off in the end according to Mr. Williams.
"He played a big role," Earnest Williams said of Coach Warren's role in the early commitment and his son. "He really kind of made us comfortable coming out that way."
Mr. Williams accompanied Aaron to Lincoln for the Red-White spring game in April and liked everything he saw.
"I loved the atmosphere out there," Mr. Williams said. "It was nice. It's a good football town. I liked it a lot.
"We wanted to get this out of the way because Aaron is going to be an early enrollee in January. I doubt that we will come back for the [BRW], I think we might try to catch a game during the season instead."
Williams gives the Huskers 11 total commits in their 2015 class which represent eight different states. Stay tuned to HuskerOnline.com for more on Williams' commitment.