Huskers fumble away 41-28 loss to No. 16 Michigan State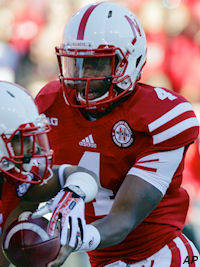 It was a game Nebraska absolutely had to win in order to keep its hopes of a Big Ten championship alive, and the Huskers simply handed it away to No. 16 Michigan State on Saturday.
Nebraska turned the ball over a staggering five times, directly resulting in 24 points for the Spartans in a 41-28 loss that officially slammed the door on NU's chances at a Legends Division title. The four fumbles and one interception marked the most turnovers the Huskers have committed in a game since they tied a school-record with eight giveaways in a 9-7 loss to Iowa State in 2009.
To say things got off to a poor start for the Nebraska would be the understatement of the century, as the Huskers gave the ball away four times in the first two quarters to essentially spot Michigan State a 13-point lead going into halftime.
That was until Michigan State got the ball back, though. The Spartans responded by grinding the ball 74 yards on 17 plays and adding another Geiger field goal from 25 yards out to put their lead back up to 13-7 early in the second quarter. Nebraska's offense failed to get anything going the rest of the half, and just when it looked like they would take a six-point deficit into the locker room at halftime, the offense came up with one last crucial miscue.
Facing a third-and-long deep in their own territory with just over a minute left and Michigan State out of timeouts, the Huskers ran a quarterback draw with Armstrong, who was hit from behind and fumbled the ball. The Spartans recovered at the NU 22 and punched in a six-yard touchdown run by Langford with 39 seconds left on the clock, making it 20-7 going into the second half.
"They weren't nervous," Pelini said of his players. "We weren't rattled. I'll have to look at it on film, but I've been around it before. Putting the football on the ground four times and then an interception where if we just take the flat route - like I said, we just made too many mistakes to beat a football team like that. We were our own worst enemy."
Nebraska is now mathematically eliminated from Legends Division contention, as the race is now down to Michigan State and Minnesota (8-2, 4-2), which was on bye this week. The Huskers will travel to Penn State (6-4, 3-3) next week. Kickoff for the game has yet to be announced.
"We lost the game today because we made too many mistakes," Pelini said. "Our kids, they played with heart, they played with passion, and like I said, as a head football coach, that's all you can ask for. We'll go fix the things that need fixed moving forward. This is a heck of a team. These kids stick together. They're going to stick together, and we need to come out and get ready to go next week."
[rl]