Huskers first to offer 2021 QB Peter Costelli and he'll visit soon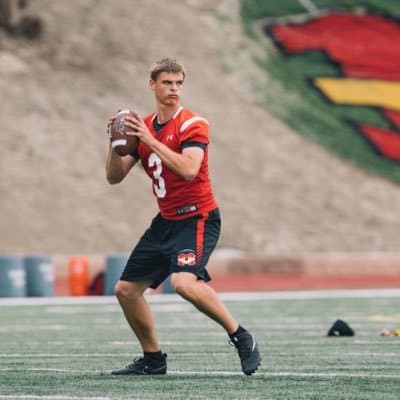 Nebraska is well ahead in their search for their next quarterback acquisition, and they were the first program to offer Mission Viejo, California Class of 2021 quarterback Peter Costelli. The 6-foot-3, 200-pounder will be attending Nebraska's Big Red Barbecue on June 21 with his mother.
"Basically, (Mission Viejo head football coach Chad Johnson) called me in one day and he got me on the phone with Coach (Mario) Verduzco and the offer happened like that," Costelli recalled. "The conversation went really good. I don't exactly remember it word for word, but they said they were very interested in me and it went from there."
It is still early in the recruiting process for Costelli and he is just now starting to learn more about Nebraska's football program.
"I mean, I've just heard great things about Nebraska," Costelli said. "I've heard amazing things about their head coach (Scott Frost) and that he's awesome. I've been able to meet Coach Verdu end he seems awesome, too. When I come up there, I want to see everything: the facilities, the school, just everything."
Costelli has since acquired other scholarship offers from Oregon, LSU, Washington State, Arizona, Colorado, Cal, Utah, Boston College and Oregon State, with many more likely in his future.
"So far, I visited Cal yesterday and it was cool," Costelli stated. "It was good to see the stadium and the facilities. They we're all nice and the coaches were really nice.
"I'm also going to be heading to Boston College, Duke, LSU, and after Nebraska, Utah. I don't know yet exactly what I'm looking for. I'm just kind of going with the flow right now to see what I like."
As a sophomore, Costelli completed 153 of 283 [54%] passes for 2,292 yards with 20 touchdowns and 10 interceptions. He also rushed for 194 yards and 2 touchdowns. Mission Viejo had a very young team in 2018 and finished their season 3-7.
"I think my strengths are just my throwing ability, and also, my ability to run a little bit and stay in the pocket and throw a good ball. We had pretty much the toughest schedule in the nation last year."
Costelli also participates in the 100m and the 4X100 relay in track, and he has recorded a personal best of 10.82 electronic in the 100m.
He has also been working with Orange County quarterbacks coach Steve Calhoun on the side, and this past weekend Costelli attended the Azusa Pacific football camp.