Huskers find clutch gene, shut out No.14 Wildcats 1-0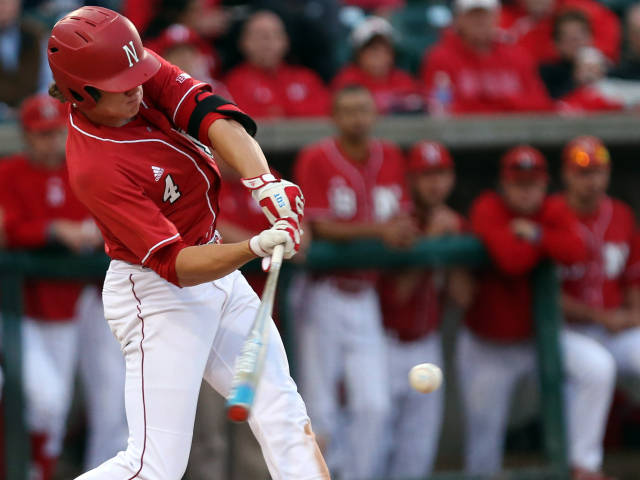 Twelve hours after giving up 15 runs in a loss to Arkansas, Nebraska shut out one of the hottest offensive teams in the country in a 1-0 victory over Arizona.
A single by junior Luis Alvarado brought in freshman Mojo Hagge to give Nebraska a one-run advantage in the bottom of the first, and that would be the only scoring action of the game.
Although Arizona (10-1) was shut out, it seemed like NU (3-6) couldn't stop getting in tough situations.
But inning after inning junior Jake Meyers kept battling and struck out four batters while allowing six hits. The Wildcats had been averaging more than 10 runs a game and have tallied double-digit runs in five of their 10 wins.
Entering Sunday's game, Arizona had the highest batting average in the country at .366, led by freshman phenom Nick Quintana, who had a .525 average. But the combination of Meyers and Chad Luensmann forced Quintana to have the worst game of his young career going 0-for-4.
"Lot of heart, we know (Meyers) has that," head coach Darrin Erstad said on his post-game radio show on the Husker Sports Network. "Meyers was struggling at the plate. He's pressing so hard and wants to do well, but just for him to be able to pitch and I'm just so proud of him and the team."
Missed opportunities have plagued the Huskers so far this season, but it was the opposite on Sunday. Nebraska may not have gotten many scoring opportunities, but it made the most of them when it counted. On the other side, the Wildcats were 0-for-10 with runners in scoring position.
While Meyers was the starter, Luensmann was the the star of the game. He opened every inning with a strikeout and only allowed two hits throughout the course of a 61-pitch and four-inning save.
Erstad noted how proud he was of Luensmann but admitted he wasn't sure if he should play him in the ninth inning.
"I took two offensive timeouts to give him more time but we decided to let Chad get after him," Erstad said. "Let's go, he's our man, let's see what happens."
Hagge, Alvarado and Ben Miller recorded two hits a piece, and Hagge has proven to be a reliable option in the lead-off spot. This was Miller's first multi-hit game of the season.
Erstad continued on by saying how proud he was of the team's effort and added how excited he was to come back home.
"These first three weeks are a grind," Erstad said. "To play in front of our fans is going to be awesome and being able to eat some home-cooking will be pretty great."
The Huskers will return to Lincoln and begin an eight-game home stand on Tuesday against Northern Colorado, with first pitch set for 1:35 p.m.