Huskers earn Erstad his 200th win as Nebraska's head coach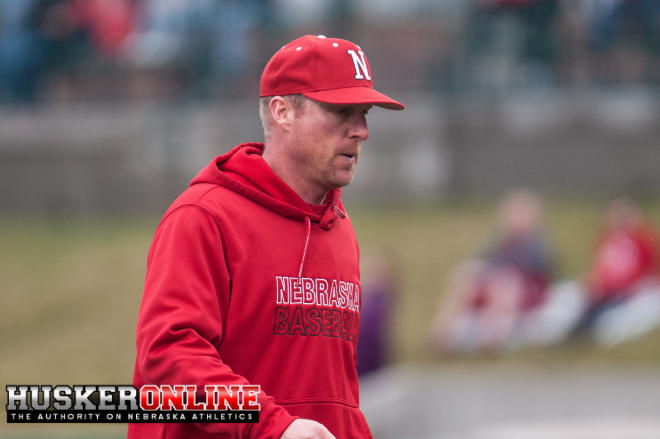 The Husker baseball team gave Darin Erstad his 200th career win Tuesday night as Nebraska's head coach by sweeping the season series with the Omaha Mavericks with a 13-2 victory.
Ethan Frazier pitched four strong innings of shutout ball, the longest stint of his college career, and recorded his first career college win. He surrendered four hits while striking out two.
"We talked about just playing clean baseball," Coach Erstad said. "We made a couple mistakes early in the game over at Werner Park and they took advantage of it a little bit. Fortunately, they didn't take advantage of all of it because they left some guys on base.
"But, you know, we came to play today. The guys were ready and they understand where we are at in the season and know there's no room for hiccups. But we were very focused and there weren't very many free passes, I think there were two walks and we played error-free baseball. That shows that they were pretty hooked up, so overall, I was pretty pleased with how they went about their business."
NU used five pitchers as the Huskers and Omaha each had 10 hits, but Nebraska outscored the Mavs by 11 runs.
Nebraska put up some crooked numbers, batting around in the 5th inning. It was the first three-home run game of the season for NU, highlighted by Jake Schleppenbach's grand slam to clear the bases in the bottom of the 5th.
Luke Roskam hit a towering home run to right/center field and had a career best four RBI on the night. Scott Schreiber hit his fourth home run of the season, an opposite field shot to the right field bullpen.
"Yeah, I mean, he has that in him to do that," Erstad said of Schleppenbach's power display. "It just blows down to pitch selection for him a lot. You could tell he was in a good place when he smoked the ball to left field and they made a nice catch out there. When he is doing that, you know he's set up right at the plate."
Ben Miller reached safely in his 24th straight game, while Cole Klenke and Alex Henwood both collected their first career hits as Cornhuskers. Henwood's hit was an RBI double.
"There just wasn't much flow to the game right away, so it was good to see them really get going," Coach Erstad stated. "Luke (Roskam) pops that one and we kind of got rolling from there. But it was great to see (Cole) Klenke get his first hit and Alex Henwood get his first hit. So those were big things."
The Huskers will next travel to Ohio State for a weekend conference series with the Buckeyes.