Huskers drop heartbreaker in 31-24 overtime loss to Northwestern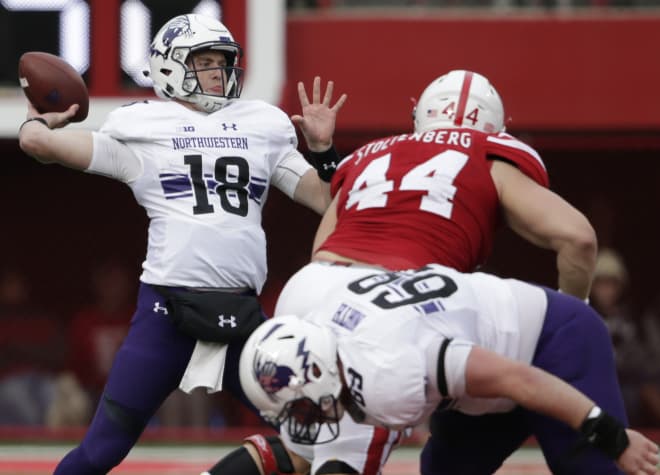 Crazy things always seem come about whenever Nebraska and Northwestern get together, and Saturday's showdown in Lincoln was certainly no exception.
In a game full of turnovers and costly mistakes by both teams, it came down to a failed fourth-down heave from Tanner Lee in overtime for the Wildcats to come away with a 31-24 victory.
Lee threw for 225 yards and two touchdowns on the day, but his three interceptions proved to be the difference. The Wildcats threw two picks of their own, but made the plays down the stretch when it mattered the most to earn their third straight overtime win.
The loss marked the first time in 59 years that the Huskers have dropped three consecutive home games in one season.
Northwestern got things going right off the bat with a 17-yard touchdown run by running back Justin Jackson to take a quick 7-0 lead just over five minutes into the game.
Lee then threw his first interception in his past 122 attempts on the ensuing drive, spotting the Wildcats' at the Husker 40-yard line. Luckily for Nebraska safety Joshua Kalu was able to take the ball right back with a pick of his own and return it 32 yards to the NU 39.
Nebraska needed two straight fourth-down conversions along the way to get there, but it was finally able to even things up with a 22-yard touchdown pass from Lee to wideout Bryan Reimers with 33 seconds left to go in the first quarter.
After a handful of stalled drives by both teams, Northwestern got rolling again with a 28-yard pass to Macon Wilson followed by a 24-yard touchdown run by Jemery Larkin to put the Wildcats back on top 14-7 with 9:06 left in the half.
Once again the Huskers were able to respond with some big plays of their own, this time starting the next drive with a 40-yard run by J.D. Spielman and then a 32-yard touchdown pass to tight end Jack Stoll.
The Wildcats hit a 42-yard pass to Wilson set up a 24-yard field goal by Charlie Kuhbander to make it a 17-14 lead with 1:12 remaining before halftime.

Nebraska looked like it had a chance to answer again until Lee was intercepted for a second time by Kyle Queiro, who returned it 20 yards to the to NU 35 with 36 seconds still on the clock.
Kuhbander had a chance for a 44-yarder as time expired, but his kick sailed wide left to leave it a three-point game at the half.
Northwestern got the ball to open the third quarter, and on the third play of the drive quarterback Clayton Thorson was intercepted by linebacker Marcus Newby, who ran it back 49 yards for the go-ahead touchdown to make it 21-17.
Nebraska got the ball back after a stop and put together their longest drive of the season on an 18-play, 79-yard march that ate up 9:24 off the clock and ended with a 23-yard field goal by Drew Brown to push the lead to 24-17 with 3:04 remaining in the third quarter.
The Huskers had a chance to make it a two-score lead after marching the ball down to the Wildcat 19, but Lee made yet another costly mistake with his third interception of the day, this time by Godwin Igwebuike at the NU 16 with 10:35 to play.
The turnover proved to be especially costly, as not only did it ruin a golden scoring chance for NU, the Wildcats went on to grind out a 13-play, 84-yard drive and reached the end zone on a seven-yard touchdown run by Thorson to tie it up at 24-24 with 5:32 to go.
Nebraska had to start its next drive at its own seven after a poor decision and a penalty on the kick return, but a 15-yard pass to Devine Ozigbo on the first play got NU out from the shadow of its own goal posts.
Lee then converted two straight third downs with a 16-yard pass to Spielman and a seven-yard toss to De'Mornay Pierson-El to move the ball into Northwestern territory with just over a minute to play. The drive would stall out from there, though, as Nebraska was forced to punt with 45 seconds on the clock.
Northwestern would move the ball all the way to the Husker 42 with five seconds left in regulation, but Thorson's Hail Mary pass as time expired fell incomplete to send the game into overtime.
The Wildcats got the ball first to start overtime, and it took a gutsy fourth-and-goal from the one quarterback sneak by Thorson to take a 31-24 lead.
The Huskers will travel to Minneapolis next week to take on Minnesota for an 11 a.m. kick on FS1.