Huskers come back, but fall 45-42 in Holiday Bowl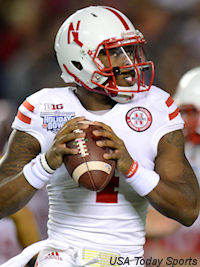 At least this time, the Huskers went down fighting.
Nebraska built a reputation for letting close games turn into blowouts, but the opposite happened in Saturday's Holiday Bowl against USC. Nebraska trailed by 18 points late in the third quarter, but battled back to 45-42 with 6:52 left. The Huskers got the ball back but failed on fourth down with less than three minutes left, leading to a 45-42 loss. Nebraska finished the season at 9-4.
The Huskers outscored USC 15-0 and gained 140 more yards in the final quarter, but it just wasn't quite enough.
Armstrong set career highs in completions (32), attempts (51) and passing yards (381). The sophomore tossed three touchdowns and one costly interception.
"I thought Tommy played his butt off," Cotton said. "It wasn't always pretty at times, but what I'm proud of Tommy - in the second quarter he tried to he tried to do too much, but he settled down in the second half and played a completely new ball game, like he did in the first quarter. I was really, really excited about the way that he reeled himself back in and competed and did so many things well in the second half."