Huskers clinch Big Ten title berth with 13-7 win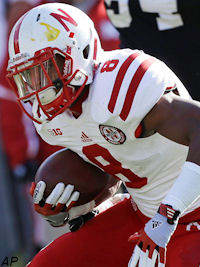 With 40 mph winter wind gusts creating havoc for both offenses all day long, the Huskers made just enough big plays to get out of Iowa City with a 13-7 win over Iowa on Friday, clinching the Legends Division title and a berth in next week's Big Ten Championship.
The Huskers were able to grind out the clock from there, and will move on to play Wisconsin for a chance at their first conference title since 1999.
The drive marked NU's longest scoring drive of the season in terms of time and plays.
Martinez did complete 5-of-6 passes in the half but for just 24 yards, as the Huskers managed just 92 total yards on 29 plays. However, Martinez's five completions tied him with Zac Taylor for the school's career record with 470, which he eventually broke on the sixth play of the third quarter.
Weisman had 16 of his 29 rushing attempts in the first half for 55 yards, and he finished with 91 yards.
"It was difficult," Pelini said. "It was a game of field position. I thought we did a really good job, other than the first drive, defensively. We did pretty good. We played physical. That's a physical team."
The touchdown was Burkhead's first since NU's win over Idaho State back on Sept. 22.
"I told the team in the locker room before the game it was going to be about winning on the line of scrimmage and being physical up front on both sides of the football," Pelini said. "We did that well enough to win the game."
The teams traded punts six times from there, and Iowa eventually ended up with a chance to take the lead at its own 31 with 3:31 left in the game. Three plays into the drive, however, Whaley stepped in front of a slant route and picked off Vandenberg's pass to give NU the ball at the Hawkeye 35.
A couple tough runs from Burkhead gave the Huskers more than enough to chew up the remaining time on the clock and complete their third 10-win season in five years under Pelini.
"It's huge," Burkhead said of the victory. "We're excited for this win, we're happy for this win, but at the same time, our goal right now is to win a Big Ten Championship. So we're going to have to celebrate today, celebrate tonight, and then get started again tomorrow.
Nebraska will now get ready for a rematch with Leaders Division champion Wisconsin in next Saturday's Big Ten Championship in Indianapolis, which is scheduled to kickoff at 7 p.m. CT. The Huskers rallied back to beat the Badgers 30-27 in Lincoln back on Sept. 29 in their Big Ten opener.
"I believe in this team, and honestly, I'm proud of those kids in the locker room," Pelini said. "We're not done. We have one left. I told them to enjoy it today, but we're looking for something more than winning our division. The team has come together and put ourselves in this position. After Ohio State, I thought that is what we were capable of doing. We're going to have to play well next week."