Huskers bracing for first practice without Foltz
As expected, a wide range of emotions were on display Wednesday afternoon as head coach Mike Riley and his team spoke during Nebraska's fall camp press conference just days after the tragic death of senior punter Sam Foltz.
As the Huskers tried to shift their attention to the upcoming 2016 season, many were unsure exactly how the team would react when they returned to the practice field for the start of fall camp on Thursday.
"We've talked to a lot of people, good people right in this building that had a lot of advice on how people might continue to react," Riley said. "I can't give a general answer to that, because I don't think it is a general answer. I think it will affect different people - from staff members to players - differently."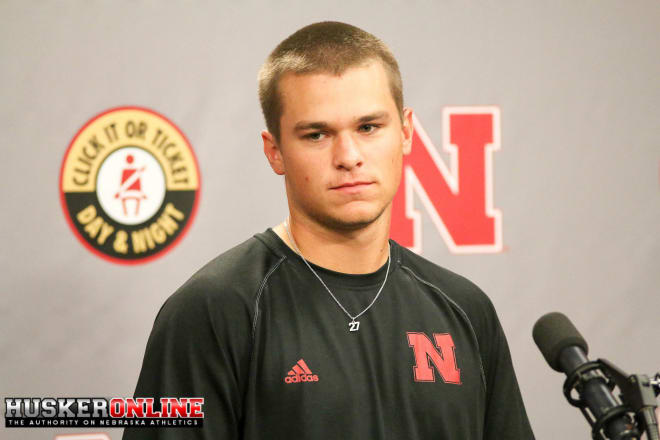 Kicker Drew Brown was as close to Foltz as any teammate, and was actually with Foltz at the kicking and punting camp in Wisconsin before Foltz and former Michigan State punter Mike Sadler were killed in a car crash the night of July 23.

Brown said he didn't think the weight of the situation would fully set in until he took the field for the first time and his best friend wasn't out there with him.
"It's going to be tough," Brown said. "I think it's really going to hit me tomorrow at our first practice when Sam isn't out there warming up with us."
Senior quarterback Tommy Armstrong was one of the players who addressed the team during a meeting called shortly after news broke of Foltz's passing. He said his message was that the Huskers needed to continue doing exactly what Foltz would want them to do - keep working harder than ever to compete for a championship.
"We've still got to stay on the same course," Armstrong said. "I know Sam would want us to stay on the same course. Last week was a rough week not only for myself but for the team, but we've got to make sure we take it on the right way and handle the situation. We've got to play like he was here, and he would want us to do that."
Riley said the team was still thinking of different ways to honor Foltz this season, but they have already decided on at least two ways to remember him.
One will be wearing an "SF27" sticker decal on the back of the their helmets, and another will be reserving Foltz's locker in the locker room all year. The Huskers will continue discussing other ideas over the next few weeks.