Huskers arrive in San Francisco to kick off bowl week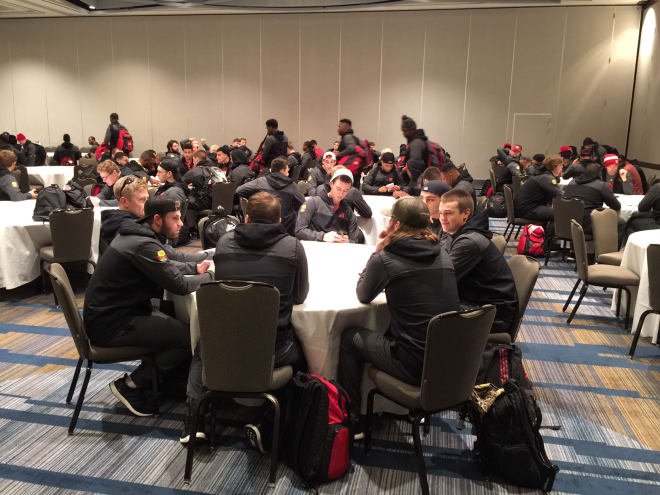 SAN FRANCISCO - When Mike Riley last met with local media on Friday, he was still awaiting some academic reports on a few of his players that could potentially impact their status for the showdown with UCLA in the Foster Farms Bowl.
With the weekend now past and the Huskers officially arriving in San Francisco on Monday, Riley said that as of now there was nothing new to report on that front.
In a situation like that, no news is generally always good news.

"I think everything is clean at this point," Riley said. "If I hear anything else at this point in the next 24 hours I will let you know."
Not only does it appear that any major academic concerns have been soothed, Riley also confirmed that every player made the trip to San Francisco.
"Everybody got on the plane," he said.
Nebraska well prepared going into first on-site bowl practice
Now that Nebraska is settled in on the West Coast, the next step will be the start of on-site bowl practices, which begin Tuesday morning and will be held at Laney College in Oakland along with an additional practice at Stanford University on Friday.

Riley said the Huskers held their normal Monday "jog-thru" practice in Lincoln before traveling.
There was obviously a different feel to the session not only because it was the last on-campus practice of the season, but also because NU is well ahead of schedule in its preparation for UCLA with nearly two full weeks of practices leading up to this point.
"The difference is the game plan pretty much is in, so we could review the whole thing instead of just what we normally do on a Monday," Riley said.
"Now it's a regular countdown basically to the game. It's a little bit different because we've had some previous practices, but anyway we'll go into what I call Day Four tomorrow and go at it."
Riley preaches responsibility off the field during bowl week
Like any team on a bowl trip, one of the first topics Nebraska addressed in its first team meeting upon arrival at the Hyatt Regency was to discuss how the players needed to handle themselves during their week in a major city.

Riley said he wanted to make sure the players enjoyed themselves in their bowl experience, but added that there would be curfews in place that would get progressively earlier as the bowl game draws nearer.
The team got to their hotel around 6 p.m. local time, and Riley said curfew for Monday night would be the latest of the week at around 12:30 a.m.
"I tell them to enjoy the city, but this city's also no joke," Riley said. "You've got to know what you're doing."
Additional HuskerOnline links: