Husker Whistle Stop Tour a big success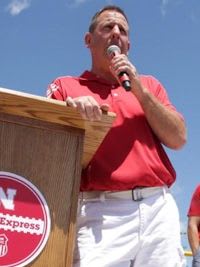 Click
Here
to view this video.
GRAND ISLAND, Neb. - The Nebraska Athletic Department tried something new on Saturday.
For the first time ever NU did a Husker Whistle Stop Tour where a luxury Union Pacific Train traveled the state from Lincoln, to Columbus, Grand Island, Kearney and North Platte.
It was an old school marketing approach that politicians once did in the 1950's traveling from town to town across the state.
On the train was head football coach
Bo Pelini
, men's basketball coach
Tim Miles
, women's basketball coach
Connie Yori
, softball coach
Rhonda Revelle
, women's gymnastics coach
Dan Kendig
, women's soccer coach
John Walker
, women's swimming coach
Pablo Morales
, men's golf coach
Bill Spangler
, women's bowling coach
Bill Straub
, women's tennis coach
Scott Jacobson
, men's gymnastics coach
Chuck Chmelka
, cross country coach
David Harris
, women's golf coach
Robin Krapfl
and men's tennis coach
Kerry McDermott
.
"It's good to go across the state and meet a lot of people, because once you get in the season and get around the team you don't have a chance to do stuff like this," Pelini said in Grand Island. "It's fun to give back to the fans that make this place so special."
As for the upcoming football season, Pelini had a pretty good one liner on what his early thoughts are going into 2014.
"If I don't screw it up I think we have a chance to be a pretty good team," Pelini joked as the crowd of over 350 Husker fans cheered.
Also taking part in the events was a multitude of former Husker athletes. Highlighting the stop in Grand Island was former Nebraska fullback Cory Schlesinger, who scored the winning touchdown in the 1994 national championship game against Miami.
Schlesinger finished his pro career up in 2007 and he spent almost his entire 13 year career with the Detroit Lions.
He's now a head strength coach at Allen Park High School just outside Detroit. He recently attended his first Husker game since playing at NU this past season when Nebraska traveled to Michigan.
"I saw them for the first time live last year in Michigan," Schlesinger said. "I have not been to a Nebraska game since the last game I played with them. It was a great opportunity to go out to the Big House and watch the Huskers beat Michigan. It was a lot of fun."
Looking at the program going forward Schlesinger hopes the Huskers can find a way to turn the corner in 2014.
"They are playing strong football," Schlesinger said. "Obviously there's a lot of things the coaches could probably tweak a little bit to get the team a little bit better, and that's nothing new. Everybody else sees it also. I think the program is going strong and I like what is going on out there. I'm excited to see what's going to happen next season."
Schlesinger said when he looks where things are at right now, he sees some similarities to 1991 and 1992 where NU would consistently win 9 or 10 games, but struggle in the meaningful match-ups. Then in 1993 the program turned the corner under Tom Osborne.
"I think (Pelini) is a good coach and I think he has a good staff to get the team where they need to be," Schlesinger said. "Obviously there was a lot of controversy about him not being able to win and to get rid of him, but I don't really know if that's the answer or not. I think him and the organization will get stronger and the longer he stays here the better it gets.
"Everybody thought in (1991 and 1992) we ought to get rid of Tom Osborne because we couldn't win the big one, and the next thing you know he's the best coach out there. There's an opportunity for Pelini to do the same thing."
[rl]