Husker veteran DB Marquel Dismuke dedicated to learn, educate young players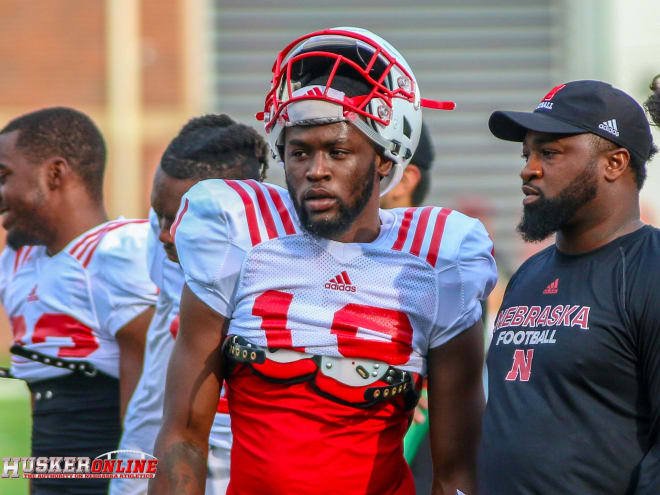 Husker cornerback Marquel Dismuke, a six-year senior, seemingly knows Nebraska's defense inside and out. During fall practice, he is making it his goal to share his knowledge with his fellow defensive backs, especially the younger players.
Dismuke, one of Nebraska's top safeties, is also putting an emphasis on increasing his football IQ even more and is on a mission to bring up the IQ in the defensive back's room as well.
"Have everybody's IQ so far ahead of the game that we should already know what the offense is going to come in with on second down and third down," Dismuke said. "I'm saying more film, more paying attention to detail. That's really the main focus is paying attention to detail."
Dismuke has been making serious contributions to NU's defense for four years and started two of those seasons. Last season, he earned 47 tackles, four passes defended and had four tackles for a loss of seven total yards.
As a veteran defender, Dismuke knows what it takes to play and dominate in the Big Ten.
"You can't be scared, no fear," he said. "DBs in the Big Ten, you've got to be hardworking, you got to be dedicated… Your IQ has got to be on a whole nother level from that standpoint."
Along with attention to detail, learning from teammates is another way to boost football IQ. Dismuke knows he and his teammates have a great opportunity to study Ohio State transfer Tyreke Johnson and the new perspective and experiences he brings.
"He's gonna give everybody some competition and make everybody come in and work even harder," Dismuke said. "Whenever somebody comes into a group that's new and is as good as he is, it's going to add a lot of competition."
"He'll give us some hard work and the different things he brings to the table because he was at Ohio State so he's seen a lot of things and a lot of different things, on different stages."
Similar to Dismuke, cornerback Cam Taylor-Britt is also pouring into the younger defensive backs and players on the defense in general to increase their understanding of football.
"With the young guys, get them into the little meetings here and there, but it doesn't have to be with the whole group," Taylor-Britt said. "If you want to tap in, we can just go in the meeting room and look over a couple of plays."
Nebraska's defense has many veterans in each group including the defensive backs. Veterans like Dismuke and Taylor-Britt are dedicated to educating their younger teammates which will help develop these players.
With Nebraska's first day of fall practice beginning on Friday, linebacker JoJo Domann asked his teammate, Dismuke about his mindset entering practice the following day.
"My mindset coming into this season is 110% everything: 110% on communication, 110% all the drills, 110% on film, getting an extra film on everything that we do know," Dismuke said. "Show who the leaders are and set the standard so everybody else can follow. So we can go do great things this year."