Husker RB Jaquez Yant is leaner with improved explosiveness, blocking
Nebraska running back Jaquez Yant said he felt 'sluggish' in 2021 during his second season with the Huskers.
Coming in at 6-foot-2, 250-pounds from Amos P. Godby High School in Tallahassee, Florida, Yant redshirted his first season on the roster to cut down weight.
On the 2021 roster, Yant was listed as 245 pounds but after months of hard work, cutting out Raising Cane's and eating salads, he weighs in at 232 pounds. The back is feeling more explosive and has better stamina when it comes to running plays, he said.
"I love this weight," Yant said. "I'm going to try to drop down to 229, like right around there. It's a good fit for me. I feel more explosive and I feel way better at this weight than last year. I was feeling sluggish, couldn't make certain cuts and certain moves."
Yant said he has been able to run more plays and feels more energized. So when did he start to see the fruits of his labor?
"I started running back," he said. "Normally, I walked back, I started running back. I told coach (Bryan) Applewhite, "I'm not going to lie, I feel much better and he was like 'duh, of course.'"
In 2021, Nebraska used Yant as a back who could run behind his pads due to his size. However, he could only run a few plays in a row. Now he can run more.
Yant said the entire running back room helped motivate him to lose the weight and add more muscle.
"Every last one of those guys is working their butts off," he said. "I know that I had to, if they can do it, I can do it. I know that's something that I need to work on to make this team better so that's what I'm going to do."
Yant is still a big back even after his near 20-pound weight loss but that is his specialty on the Huskers roster.
Running backs coach Bryan Applewhite said not every running back is the same and Yant brings something unique to Nebraska's running back room.
"Yant is a big back and God's given him size, God's given him good feet and an ability to run and he's got to use those abilities to his advantage," Applewhite said. "There's a time and place when you can maybe try and outrun somebody and there's a time and place where you need to use what God gave you, which is size and strength, and go get a tough yard."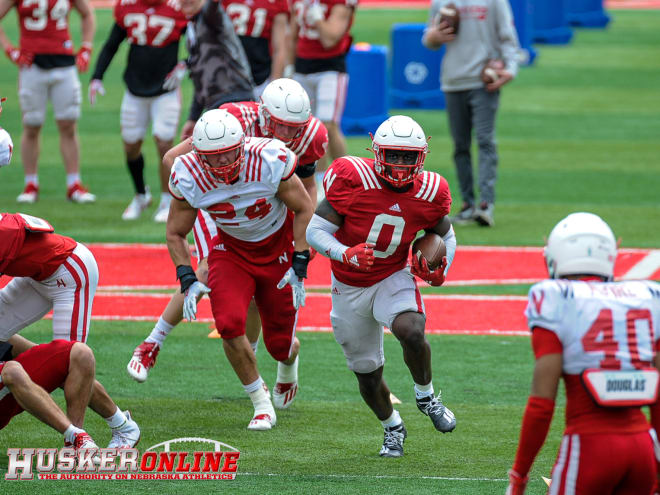 The running back said improving his blocking was his other main focus of the off-season along with his weight.
"I'm more of a physical guy," Yant told the media after Thursday's practice. "I'm so eager to try to block them, I end up messing it up instead of just taking my time, taking a deep breath and actually getting the blocks."
He has been trying to watch the plays develop before getting overeager, he said.
"Just watching their movement, seeing what's going down then reacting, not overthinking and trying to hurry up and block," he said. "Take my time. Take a deep breath and get the job done."
Offensive lineman Nouri Nouili has seen a big jump in Yant's blocking skills since he arrived at Nebraska.
"His body has changed," Nouili said of why Yant's blocking has improved. "Everybody here can see that from the first time he got here to now, he's gotten a lot bigger, like stronger, less fat and his technique's gotten way better and so a lot of that plays into being a good blocker and a good runner at the same time."
Yant learned a lot during the 2021 season, in which he rushed 47 times for 294 yards and one touchdown.
"You can have the No. 1 team but if you don't do the little things right, that can get you beat," he said. "Last year we were in close games but we didn't pull them off because it was a little thing. Each game was always something so little. Compared to this year, that's what our coaches are focusing on. If you don't do it right, you're doing it again."
With a lot of competition in the running back's room, Yant's battling to be in the rotation come fall with several other backs with unique abilities.
"You got to just push, you got to be the stand-out guy," he said. "We all got the same agenda. There's only one job and so many of us but we all have to compete at the end of the day to try to win that job."