Husker legacy Dylan Raiola gets goosebumps at NU night game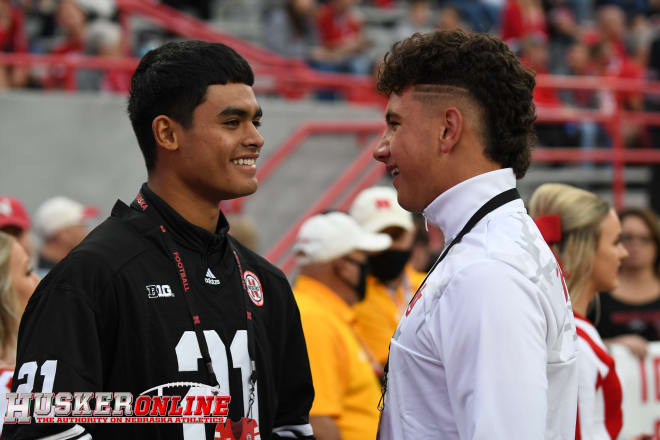 Nebraska is still trying to fill out the remainder of the open spots to their football Class of 2022, but many Husker recruitniks are gazing longingly at the potential of Class of 2024 legacy quarterback Dylan Raiola playing in Lincoln when his high school career ends.
As most Nebraska fans know by now, Dylan Raiola is the son of former Cornhusker All-American center Dominic Raiola, and the pair were in town for the game with Northwestern this weekend. It was Dylan's first time experiencing a Nebraska home game.
"That was sweet!" Dylan Raiola stated. "I always watched videos on the Tunnel Walk, but it was something else to be down on the field to see and hear the crowd. Getting to see everything I saw on the videos in person brought goosebumps to my skin. It was really special!"
Getting to meet and further get to know people at Nebraska face to face was a highlight of the weekend for Raiola.
"I hung around pretty much everybody: Coach (Scott) Frost, Coach Mario (Verduzco), and also Sean Dillon who works in the front office. I got to hang around everybody and be around everybody, so it was good. We just talked about the game and what they're doing with the program, so I am super-excited about it."
Raiola saw another familiar face while he was in Lincoln in the person of 2023 Rivals100 outside linebacker Tausili Akana.
"Yeah, actually, my sister and their sister played volleyball together when they were younger, so we knew them from that. We kept the relationship and it was good to see what they were doing now. He's a great player and he's a great person to be around as well."
Raiola was asked to give his impressions about Nebraska's offense that he witnessed while in Lincoln and also in Norman.
"It's pretty special, you know, getting to see that offensive explosion," Raiola shared. "It was really good to see and they played really hard. It was definitely good to see. Just being around the stadium, and being around the coaches and everything, and getting to meet a couple of the players was very special."
Prior to checking out a Nebraska home game, Raiola had witnessed the Huskers play at Oklahoma. He also attended the Georgia vs. Clemson and the Texas vs. Texas Tech games.
"All of them had special and unique things about each place," Raiola said. "At Texas, I got to see the new facility they are building down there. OU was sweet also. They are a top program in the country and it was just good to see a good game.
"The Georgia/Clemson game was a top five match-up, so I'm glad I got to go to that and experience the college experience with their fans. Each place was special and had their own things which were special about each place."
Dylan Raiola is living his dream getting to attend all of these high-profile college football games while interacting with their coaching staffs.
"Yeah, oh yeah, it's just awesome because I love football!" Raiola expressed. "I breathe football. I sleep football. I just like being at these games, and I wouldn't trade it for anything.
"I'm just looking at the college feel. I'm a big, big family guy, so I would like to go to a place where I am comfortable and were my family feels comfortable. So, I mean, also the coaching staff. It all plays a big part in the big picture. No, I don't have a time [frame] in mind right now. I'm just kind of enjoying it and letting the process happen."
While in Lincoln, Raiola viewed the video preview of the Huskers' new facilities upgrade as well.
"Yeah, I got to see the video yesterday," Raiola said. "It's going to be the top in the country and I'm excited to see it."
Raiola will be attending the upcoming Georgia vs. Kentucky game, and then shutting down his visits until after his high school playoffs conclude.
"Were doing good, we are 3-2 right now going into our bye week," Raiola said of his own season. "We are 1-1 in our district, so we are hanging in second place in our district right now. We're super-excited!"