Husker Buzz: Southern Miss no cupcake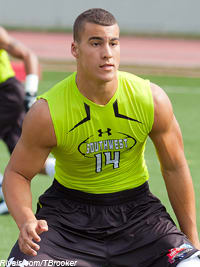 There won't be any window dressing or holding back on Saturday when Nebraska takes the field against Southern Miss.
Saturday's match-up against the Golden Eagles is the toughest season opener the Huskers have had since 2003 when NU faced a ranked Oklahoma State team in Lincoln led by
Les Miles
and
Mike Gundy
.
Yes this Southern Miss team lost a lot from a year ago, but let's not kid ourselves. There is plenty of talent on this team.
This is a poor man's SEC roster that will feature speed on defense and at the skill positions. It's the type of game that if Nebraska turns the ball over or doesn't execute properly they could very easily lose, despite being 20 point favorite.
"We'll be challenged right out of the gate," senior linebacker
Will Compton
said. "That's one thing that is different and that's we are playing a quality football team, so we're going to be challenged right from the get-go. We have to have a sense of urgency about that, but I think we'll be ready to go. I know we'll be ready to go and hopefully we'll take care of business on Saturday."
The Golden Eagles beat Nebraska in 2004 in Lincoln. Who could forget the legendary Joe Dailey running out of bounds on a fourth down pass play to end the game as Bill Callahan recorded his first loss at Nebraska.
They also came to Lincoln in 1999 and gave
Frank Solich
's Big 12 championship team all they could handle. It took two defensive touchdowns from linebacker
Julius Jackson
to get the win that day for the Big Red as Nebraska mustered just 185 yards of total offense.
The Golden Eagles will attack Nebraska with speed and try to slow down quarterback
Taylor Martinez
and
Tim Beck
's offense.
"I think (Southern Miss's defense) calls themselves 'The Wild Bunch,'" Martinez said. "Coach Beck told us that. I know they are very well coached and they are very fast. I think we have some speed on offense, so it should be a pretty good match-up."
The other thing you have to like about this match-up is you know Nebraska will come out of the gates focused. This won't be like a season opener against Maine or Chattanooga.
In those types of games you can almost just experiment and play around and still get an easy win. That won't be the case Saturday.
Bo Pelini
will have to have his team dialed in and ready.
"It's going to be a nice challenge for us right out of the gate," Pelini said. "Obviously you don't win the amount of football games they did a year ago and not have talent. They have a lot of things going. Their program is kind of on the upswing."
Redshirt: Easier said than done
In the perfect football world Pelini could run his roster like a PlayStation dynasty on NCAA College Football. He could redshirt all of his newcomers, let them build up their stats and vitals and coach for four years down the road while relying only on veteran players this year.
However, in today's modern world of college football that's just not realistic. Sure Pelini would like to see guys like
Tommy Armstrong
and
Imani Cross
be fifth-year seniors in 2016.
The thing is Pelini can't operate his team like he's going to be here in 2016. He has to coach for the now and if he feels playing freshmen like Armstrong and Cross will help them win football games in 2012 you can't argue that.
For the record I would like to see Armstrong redshirt, but if a situation arises where they have to play him you just have to roll with it.
Jackson's demeanor won him the job at center
If you talk to senior offensive lineman
Justin Jackson
it's easy to figure out why the coaching staff has decided to go with him at center.
Jackson is one of the more vocal and respected guys in the entire locker room. He plays the game with passion, and as senior tight end
Ben Cotton
said he's the guy who's yelling at others for not going hard enough.
I think deep in the staffs mind when they moved Jackson back to the offensive line they thought he had the potential to do this. It was just a matter of him getting comfortable with the position and taking ownership.
Having Jackson on the field gives the line another version of Ricky Henry and he'll give the other four guys somebody to feed off of.
Around the state
***After seeing Nebraska commit
Josh Banderas
play running back on Friday night against Lincoln North Star, you wonder why he wasn't taking more carries a year ago? I watched the Silver Hawks several times in 2011, and they didn't have a running back that ran like Banderas did. It should be fun to watch him this season. He has a legitimate chance to be one of the leading rushers in all of Class A.
***I really came away impressed with North Star 2014 running back/fullback prospect
Austin Rose
and 2014 offensive line prospect
Mathew Dietz
. I think both are Division I guys right now.
***There may not be a more complete quarterback in the state than Lincoln Southeast's
Najee Jackson
. The senior made it look easy out there. Whoever takes a chance on him will be getting a good one. He's got unbelievable natural arm strength and a great pocket presence.
***I was surprised to see former Lincoln Southwest quarterback
Tavarius Bender
leave Kansas State already. Remember, Bender graduated high school early to be in Manhattan in January. All reports were he was having a great spring and summer and he suddenly just left town? Something doesn't add up.
***Former Omaha North linebacker/safety standout
Travis Green
has landed at Iowa Western C.C. in Council Bluffs. Green was placed at Dodge City (Kan.) C.C. a year ago by Kansas State. The Wildcats are still recruiting him.
Three and out
***Freshman running back
Imani Cross
has the work ethic you want to see for a newcomer. He's the last guy off the field each night, and Burkhead said he gets his dinner in takeout boxes so he can keep watching more film upstairs after practice.
***Sophomore wide receiver
Jamal Turner
has had his best stretch in practice over the last week. I'm told Turner had a rough scrimmage a few weeks back where he dropped some passes, but after that moment the light bulb has really come on.
***Way too much has been made about Martinez's throwing motion over the off-season. Do I expect improvement? Yes. However, I agree with Gerry DiNardo from the Big Ten Network that Martinez will show the same type of improvement that any player would at any position over an off-season.
Sean Callahan can be reached at sean@huskeronline.com and he can be heard each day at 6:50 am and 4:50 pm on Big Red Radio 1110 KFAB in Omaha during the football season. He can also be seen on KETV Channel 7 TV in Omaha during the fall and each week he appears on NET's Big Red Wrap Tuesday's at 7 pm.
[rl]