Husker Buzz: Riley making the rounds on Monday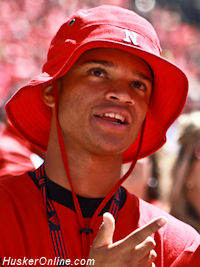 Now that the recruiting period has officially hit the dead period until Jan. 15, newly named Nebraska head coach Mike Riley began making the national radio rounds on Monday.
Riley appeared on both the Tim Brando Show on Sirius XM Channel 91 and the Jim Rome show on Monday. It's been 10 days since Riley was officially announced as NU's head coach, and there's no question he's already covered a lot of ground, but there's still much more to go.
Maybe the most interesting thing Riley addressed with Brando on Monday was the building of his future coaching staff.
Riley has already announced that four members of his Oregon State staff will be following him to Lincoln, and he confirmed to Brando that at least one if not more assistants from
Bo Pelini
's staff would be retained.
"That's exciting to me and it's kind of hard too," Riley said in building a staff. "I've got some guys already hired that have already been on the previous staff (at Oregon State) and have made a move to keep a guy that's on (Nebraska's previous) staff.
"That's why I'm going to blend it. There will be some from Oregon State, maybe multiple or one or two from (Nebraska) and this place also allows you to reach out to somebody else that may be a great fit for a staff and a good football coach and a good person. I'm trying to blend those kinds of three factors together as we complete this thing."
It's clear Riley hasn't been in a rush to make these hires, despite being pressed about it by the recruits this past week during in-home visits. It seems clear that defensive backs coach
Charlton Warren
is the Pelini assistant with the best chance of being kept from everything we've heard the last week.
"It's always both hard and fun trying to put a staff together," Riley told Brando. "You spend so much time together and it really makes this job fun when you get a group of guys working together for this common goal and can enjoy each other and argue about some football. However, at the same time enjoy life together. It's a very important feature for me in one of these jobs. One of the reasons I like being a head coach is gathering good people around me."
Click
Here
to view this Link.
Why make the move now?
Riley continues to get asked why take this Nebraska job when he's turned down teams like USC and Alabama in the past.
It's a good question, but more than anything in life timing seems to be everything.
"I really never anticipated leaving Oregon State, I didn't," Riley said. "The best way for me to be able to describe it with my wife involved in it might be for me to simply say timing and place and people. I like the people. I had some background on (Shawn Eichorst) and I know what they wanted and I felt good about that. At my age if I was going to do something different, this was probably it. I decided to do it."
Riley also told Brando the fact his wife Dee fully supported this decision had a big impact on him.
"I was kind of surprised my wife was all in and excited that I wanted to do it," Riley said. "We kind of went through the process and I thought that this might be the right place, right time to take one more job in my life. I had some background knowledge about the administration here and I felt good about that.
"The opportunity in this business to coach at a new place that is a terrific place - you can't buy history and tradition and they have that here, which will be fun to be a part of. I also wanted to try something new. I've been at Oregon State for 14 years and like I said Oregon State impacted my life more than I could ever impact them and I appreciate that for that time there."
Learning more about his new team
As Nebraska gets ready for their Holiday Bowl game against USC on Dec. 27 Riley told Brando he's looking forward to watching some practice this week as well as out in San Diego.
The biggest thing he said was he will not sacrifice wins to push system. As we know, that's where Bill Callahan went wrong in 2004. He sacrificed wins to push system, which led to a 5-6 season. Riley will not make that mistake.
"We'll have to in our way blend ourselves into this team and what they do and what we would like to do," Riley said. "You can't be too hard headed about that. We are going to have to look at the talent and then fit our system into the best way to play and win games. That's kind of exciting to me.
"I'm going to get to learn more about these guys and I'm going to be able to watch their practices as they get ready for the bowl and then watch the bowl game as I go learn about it. Then we'll go to work in January with the team and get ready for spring practice which will be very, very interesting to me as we go forward."
Recruiting game plan going forward
It's no secret there can be recruiting challenges at a place like Nebraska based on location and the lack of population.
As Riley looks at recruiting to NU, he's learning more by the day. There's no question you need to have a national approach, but also develop more of a solid blueprint to follow year after year.
"I think it's very, very possible that the recruiting base (at Nebraska) has changed," Riley said when talking about the move from the Big 12 to the Big Ten. "I have noticed that the group they have committed is pretty national. I went to Denver, to Blue Springs, Missouri to Atlanta to New Orleans. I know we are recruiting some guys in Florida.
"I think you do have to have an identity somewhere, but it's kind of nice to spread your wings out a little bit. I think there is a lot to sell with the Big Ten and I think there is a lot to sell that there's a great tradition and history here.
"When you come here you can see it and you can feel it. I like those towns when you drive up into them the airport is a little bit out of town and the dominating feature is that big stadium right there. That's a pretty neat sight to me. I love stadiums anyway. I had never seen the one here before. I think that we'll have to study that and make sure we hit the right spots. I think we're going to have to spread our wings in recruiting."
Three and out
***Riley said one of the most impressive things to him in just 10 days are the people he's met in Nebraska.
"I love college towns and this college town has some substance to it," Riley said. "It's the state capitol and it just seems to be a pretty vibrant place - I like that."
***Riley added he's been really impressed how friendly and easy to deal with all the other coaches are at Nebraska.
"I like the fact that all the sports here appear to be pretty close knit with each other," he said. "I like having relationships with the basketball coach and the baseball coach. It seems to be that kind of place pretty easily. It feels big, but it also feels homey.
***Riley joked that whenever he travels to booster functions with basketball coach
Tim Miles
he'll make sure he's the opening act and doesn't have to follow Miles on stage.
"I'm going to have to get in front on that one. I either need a lot of help…my wife has always told me don't go tell any jokes," Riley said laughing.
Sean Callahan can be reached at sean@huskeronline.com and he can be heard each day at 6:50 am and 5:05 pm on Big Red Radio 1110 KFAB in Omaha during the football season. He can also be seen on KETV Channel 7 TV in Omaha during the fall and each week he appears on NET's Big Red Wrap Tuesday's at 7 pm.
[rl]