Husker Buzz: Offense must stress NU defense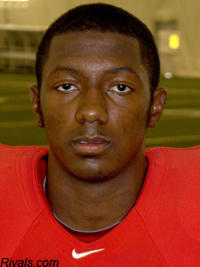 Click
Here
to view this video.
I'm calling my shot right now.
Over the long four-week grind of fall camp, there's going to be a day this August where head coach
Bo Pelini
and his defensive coaches come storming off the field with their heads down, while
Tim Beck
and his offensive guys will be chumming it up with a few laughs.
It already happened at least once during the spring, and it will surely happen again over this long month of August. Pelini and defensive coordinator
John Papuchis
face the challenge of bringing along one of the younger and more inexperienced defenses we've seen in recent memory at Nebraska.
The good thing though for Pelini and Papuchis is they will be going against the best offense the Big Ten has to offer each and every day in practice.
In order for this team to get to where it needs to be in November, it will be important for Beck and his offense to push this defense to new limits in fall camp. Force them to get better and force them how to make adjustments on the fly.
It's not going to be an overnight process, but if by the end of August this defense can consistently get some stops on
Taylor Martinez
and the Husker offense, it will go a long way in developing their confidence for the fall.
"Fall camp is going to be huge for our whole team, and especially our defense," senior fullback
C.J. Zimmerer
said. "It works out well that we have a good offense to throw at them during camp, because they'll be ready for games then. If we can put some game situations of a fast-paced offense against them, they might not be as shell shocked out on the field."
Senior defensive back
Andrew Green
is one of a handful of veterans that return for the Huskers on defense.
Green said he's looking forward to the challenge of facing off against NU's potent offense each day in training camp.
"I think it will get us ready thinking faster on our toes going against a no-huddle offense," Green said. "Really just getting our mindset ready and it will also help with our conditioning."
Senior offensive lineman
Jeremiah Sirles
said regardless of how many ups and downs there are for the defense in fall camp, the common goal still remains the same.
"There's definitely that competition factor of offense vs. defense, but at the same time it comes down to playing that first Saturday, because we are one team," Sirles said. "Yeah we are going to get after it and try to get after the defense and we want the defense to try and get after us. If we can stretch them to the point where they're like 'we're stopping these guys,' I think that will give them a lot of confidence knowing they are going against what was the No. 1 offense in the Big Ten."

Newcomers looks the part
Nebraska brought in a very impressive looking 2013 recruiting class, and three newcomers I'm looking forward to seeing are freshmen running backs
Adam Taylor
and
Terrell Newby
, along with junior college transfer offensive lineman
Matt Finnin
.
Zimmerer told me he's been very impressed with both Taylor and Newby this summer.
"They fit right in our group," Zimmerer said of Taylor and Newby. "They are both hard working guys. Adam Taylor is throwing up over 300 pounds in the bench 10 times, just like Imani (Cross) did last year. He's a little bit smaller than Imani, but he brings that same big back punch. Terrell is quick.
"It's going to be a lot of fun to see how they look in fall camp to see if they fit all that hype. They did in the summer, but being in pads it's going to be a little bit different."
Meanwhile Finnin is a guy that projects to be an immediate two-deep player at tackle, and even though he's a newcomer, he's already played Division I football at Western Michigan.
Three and out
***Zimmerer joked that between incoming freshman safety
Nathan Gerry
, fullback
Andy Janovich
and Cross they could start their own body building team. Between those three players, their combined body fat as a group is barely over 10 percent.
***Senior offensive lineman
Spencer Long
missed Big Ten Media Days in Chicago because he was preparing for the MCAT Test he took just last week. Long said he won't get his official score for another few weeks. It's pretty amazing to think NU has had three players take the MCAT each of the last three years - Long, Sean Fisher and Collins Okafor.
***The new field turf in Memorial Stadium is a thing of beauty. The turf has a much darker look to it, and the red paint looks fresh. With the millions of dollars they spent renovating East Stadium, the $400,000 they spent to add new field turf gives the stadium much more bang for the buck. The two-tone turf color is also not as bad as before, which I also like.
Sean Callahan can be reached at sean@huskeronline.com and he can be heard each day at 6:50 am and 4:50 pm on Big Red Radio 1110 KFAB in Omaha during the football season. He can also be seen on KETV Channel 7 TV in Omaha during the fall and each week he appears on NET's Big Red Wrap Tuesday's at 7 pm.
[rl]