Husker Buzz: Line play has been an early surprise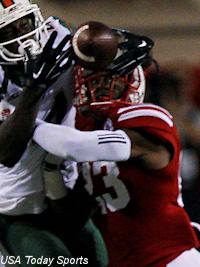 Click
Here
to view this video.
When you looked at Nebraska's offense heading into the 2014 season the line was arguably the biggest question.
The Huskers had to replace veterans like Jeremiah Sirles, Spencer Long, Brent Qvale, Andrew Rodriguez and Cole Pensick. When healthy, that was basically NU's staring group from 2011 to 2013.
However, through four games you wouldn't even know they lost that much to graduation a year ago. You could even argue this is as good as the line has looked under head coach
Bo Pelini
while at Nebraska. Currently the Huskers are ranked fifth nationally in rushing at 329 yards per game, and they've only allowed one quarterback sack on the season.
"The way they come off the ball, their effort off the ball, is ultimately going to transpire to the whole offense," senior running back
Ameer Abdullah
said on Monday. "This Saturday they definitely wanted to get physical. They wanted to make sure their presence was felt. And they did a tremendous job. I am really proud of those guys.
"Every time we got the ball there was at least a few yards cushion before I had to make a move. Any time you get that as a running back you have to do it for your team at that point."
"Those guys all know they are coming out after two series, but they still get mad every time I do it," offensive line coach
John Garrison
said at this past Friday's Big Red Breakfast in Omaha.
It's that kind of competition that has made this group better. Guys haven't gotten comfortable with their starting spots because they know somebody else is knocking on the door right behind them.
If the Huskers want to win the Big Ten, it's going to be the offensive line that helps carry the load in October and November. Too many times over the last few years we've seen injuries put Nebraska's line in a tough spot by season's end. You don't get that impression this year. With the added depth and competition we should see a much fresher unit by the end of the season.
"They played well the other night. They came off the football. They were physical. They played hard. That's what I expect from them every week," Pelini said. "We played a good football game up front the other night, but that isn't going to help us for our game Saturday. You've got to bring it every week. And that's the key. As well as we've played, there are some things that we could do better up front. I think we're making progress as a team in a lot of areas. We're still a long way to go."
Sideline incidents could've been much worse
It's probably a good thing Nebraska and Miami didn't shake hands following Saturday's 41-31 Husker victory.
After two near bench clearing brawls a source I spoke with that was on the Hurricane sideline told me Monday the Miami players were talking and discussing which Nebraska player they planned to get into it with after the game was over.
The source told me they all said "No. 4," which was NU defensive ned
Randy Gregory
. I was also told both sides knew that doing a post-hand shake wasn't even an option, as there was a good chance it would've ended ugly.
"There's passion and then there's being stupid," Pelini said. "Fighting, there's no room for fighting during football. Nothing good can come of it. Let's face it, if a fight breaks out like that with helmets on, keep your helmet on. Whatever is happening on the field, let it stay on the field. Our guys understand that. It's an emotional game."
And in case you are wondering Nebraska fans did not do their traditional opponent clap when the Hurricanes left the field on Saturday. The same source told me they were greeted with boos and one Miami lineman gestured the middle finger towards Husker fans as he walked off the field. Stay classy Miami.
Three and out
***There seriously isn't another fan base in college football that would have over 90,000 still in the stadium with their team up 41-24 in the game's final minute. Other fan bases can say they are the best in college football, but Nebraska fans prove it year in and year out with things like this and obviously how they travel to road games.
***Big time hap tip to the Nebraska student section on Saturday. The place was rocking and nobody left early. In today's college football world that's a lot easier said than done. Michigan's student section on Saturday against Utah was probably about two-third full around kickoff. Things aren't looking good for
Brady Hoke
right now. I'm sure Michigan fans are hoping the San Francisco 49ers have a bad season so they can get
Jim Harbaugh
to replace Hoke in Ann Arbor.
***Finally, I thought it was interesting to hear Abdullah say he has mixed emotions about his Heisman Trophy campaign promotional batteries that NU put out. That's just the kind of person Abdullah is. That's what makes him great. He's very well grounded and not into his personal accolades. And for the record he hasn't used any of his own custom AA batteries yet.
Sean Callahan can be reached at sean@huskeronline.com and he can be heard each day at 6:50 am and 5:05 pm on Big Red Radio 1110 KFAB in Omaha during the football season. He can also be seen on KETV Channel 7 TV in Omaha during the fall and each week he appears on NET's Big Red Wrap Tuesday's at 7 pm.
[rl]