Husker Buzz: Defense in a different place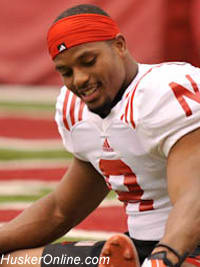 Nebraska head coach
Bo Pelini
is a completely different person than he was year ago at this time when talking about his defense.
Nobody is "swimming in it" or there haven't been those days following practice where he's been so upset with their play that he can hardly conduct an interview session. He's got an August confidence about this group we haven't seen since the 2009 and 2010 seasons.
"At this point last year I knew what was ahead of us," Pelini joked. "Like I said, I think on the defensive side of the football we're still a work in progress, but we're significantly ahead of where we were a year ago - not even in the same ball park."
From the media's perspective, we've been able to watch most of fall camp, and that too has allowed us to paint a more accurate picture of this defense.
The front four has been dominant all month, the linebacker position is the deepest it's been since Pelini got to Lincoln and the secondary has been a pleasant surprise. There also haven't been the technical breakdowns with the defense that lead to big plays and coverage busts. Last year at this time Pelini said "they were just trying to get lined up" right - this year they are trying to "refine" their skills.
Nobody looks confused anymore and you don't see this coaching staff screaming and yelling in frustration like you may have last season. That's what happens when you start the youngest front seven in modern day school history. That gamble paid off though and NU survived the 2013 season with a 9-4 record, despite suffering crushing injuries to their starting quarterback and a preseason All-American offensive lineman.
"I think we have tremendous potential as a unit," Pelini said. "I like what I've seen from those guys. I think their back-ups are coming along. We are deeper than we were a year ago. We didn't have necessary starters last year. We were trying to find out about those guys. You can coach now as far as refining them.
"A year ago it was front to back. We had some experience in the secondary, but that whole front seven was young and it made it difficult. There were times where you could see that talent last year and there were times where we just weren't very good. It was just the situation we were in. I thought we got better as the year went on and we continued to get better through the off-season and I think that's what we are seeing right now."
Running back
Ameer Abdullah
, the Big Ten's leading rusher in 2013 has seen the growth of this defense first hand in practice every day.
"It's kind of frustrating sometimes," Abdullah said. "Luckily we don't play against our defense, because we'd have a tough time.
"They have that swagger and confidence about themselves. They have that confidence in their abilities. They understand they have a year of experience and now it's time to put it on film."
The players also feel that confidence from their head coach.
"You can see (Pelini) has a lot of confidence in us," senior cornerback
Josh Mitchell
said. "That's what players like to see in their coach. They like to see their coach is very confident in them. If your coach is confident in you, then it helps you out a lot more."
Now it's time to stop talking and just put it out there for the rest of the Big Ten to see.
"Are we going to be the finished product on Saturday? No, you never are," Pelini said. "But I'm looking forward to seeing it and putting it out there on the field."
Three and out
***I would love to see Nebraska replace a non-conference road game with a neutral site match-up similar to what Alabama does each season. NU hasn't done a neutral site game during the regular season since playing Oklahoma State in Kansas City in 1998.
The problem is NU has very little scheduling room in the next 10 years and they need seven home games. The only way I could see them playing a neutral site game is if they had seven home games and their non-conference road trip turned into a neutral site game.
***Loved the red sport coat look Pelini came out with on Monday for the press conference. It's probably the sharpest he's ever looked for one of his weekly press conferences. Wonder if my friend Gary Novotny of Gary Michaels Clothing in Lincoln is already trying to get his hands on the red "Pelini sport coat" to see in his store.
***I'll be very interested to watch former Omaha North standout
Brandin Bryant
play on the defensive line for Florida Atlantic. Bryant was a late bloomer that emerged as a senior and spent one year at Fort Scott (Kan.) C.C. before following coach Jeff Sims to join Carl Pelini at FAU. There's no question Bryant would be a two-deep type player at Nebraska right now.
Sean Callahan can be reached at sean@huskeronline.com and he can be heard each day at 6:50 am and 4:50 pm on Big Red Radio 1110 KFAB in Omaha during the football season. He can also be seen on KETV Channel 7 TV in Omaha during the fall and each week he appears on NET's Big Red Wrap Tuesday's at 7 pm.

Click
Here
to view this Link.