Husker Big Man Camp breakdown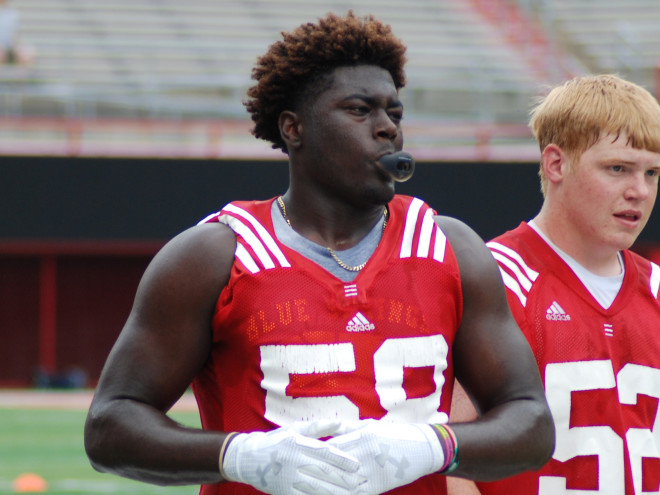 Nebraska wrapped up their Big Man Camp on Monday in Lincoln, and headlining this year's event was Blue Spring 2018 defensive tackle Daniel Parker.
The 6-2.5, 268 pound Parker worked extensively with Husker defensive line coach John Parrella on Monday, as former Blue Springs and current NU defensive tackles Carlos Davis and Khalil Davis watched closely.
Parker currently holds offers from Iowa State and Missouri State, and is part of a group of defensive tackles in the state of Missouri that is one of the best the state has seen in years. Nebraska has already offered St. Louis area defensive tackles Trevor Trout and Michael Thompson for the class of 2018 as well.
Other top names in attendance on Monday from the in-state were Gretna offensive lineman Patrick Arnold (6-2, 285), Kearney offensive tackle Rudy Stofer (6-6, 255), Ashland-Greenwood defensive tackle Brett Kitrell (6-3.5, 271) and Omaha North offensive lineman/defensive tackle Kevin Williams (6-5, 332).
All four of these players hold FBS offers for the Class of 2017, and used Monday's camps as an opportunity to earn a Husker offer.
Quick hits
***Norris 2018 prospect Bryce Stai came back to Monday's camp to work as a defensive end after coming Friday to play tight end.
***Malcolm's Tim Dishman, the son of former Husker offensive lineman Chris Dishman took part in the camp, as did Ben Lingenfelter, the son of former Husker Bart Lingenfelter.
***Nebraska will hold their speed and skill camp on Tuesday from 1 to 4 pm. The will have Friday Night Light Camps each of the next two weeks.