Husker baseball adds power arm/bat Trey Frahm to 2022 class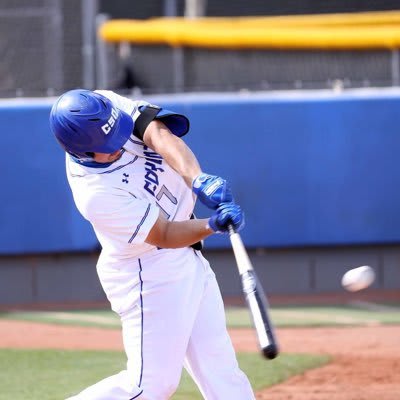 The Nebraska baseball program added a new commitment from a power arm and a power hitter to their Class of 2022.
Outfielder and right-handed pitcher Trey Frahm will be finishing up at the College of Southern Nevada before joining the Huskers next fall. The former Elkhorn high school product both throws and bats right-handed.
"So, I came home this summer just to train and rebuild for the upcoming season and, towards the end of summer, like late August or early July, I got in touch with [Nebraska] and we started talking," Frahm shared how things developed with him and the Husker coaches. "We stayed in contact, and then Coach (Jeff) Christy came down [to Las Vegas] this past Wednesday to watch me play.
"And then the following morning, Coach (Lance) Harvell called me and gave me a scholarship offer. I called my pops and told him, 'Hey, Nebraska plays Northwestern this weekend, so what are your thoughts about me flying up on Friday morning?' He said he was good with it if they were good with it."
Frahm proceeded to call Coach Harvell to make the arrangements for him to visit Lincoln this past weekend. Frahm spent Friday with the baseball team, watching practice and talking with the coaches. He then returned to Omaha before treading back to Lincoln on Saturday for the football game.
"On Saturday, I had a great sit-down with Coach (Will) Bolt and that really sealed the deal for me," Frahm said. "I didn't tell him right then and there yet, but it was a great conversation with him. I watched their scrimmage and then hung out with some team members. About half of those guys I either played with or against growing up and in high school. It was really awesome getting to be around them again!
"I know Max Anderson and Garrett Anglim, and a couple other guys, really well. I've known Max from my 10-year-old year all the way through high school. I know we didn't go to the same high school, but we played on the same travel teams. Funny enough, him and I both played shortstop and second base on our travel team, but now we're a little bit bigger and a little bit different ball players than that, so now we are corner guys. He's been one of my best friends since we were 10."
A former Husker pitcher was instrumental in getting Frahm to realize he needed to jump at this opportunity to play for Nebraska.
"I have come to know Cade Povich really well, and him and I went to PBA to get some gear, and then while walking back we were talking and the thought came to my head, 'Trey, what are you waiting for, man? You got that feeling in your chest immediately after walking out of Coach Bolt's office, so go make this happen.'"
Frahm and his father then returned to Coach Bolt's office to give him the news that he was committing and ending his recruiting process.
In addition to Nebraska, Frahm had an offer from Oklahoma and several other schools were indicating to him they were on the verge of tendering him a scholarship as well.
"Yes, they were quite a few schools, and I had a couple visits scheduled for these next couple of weeks," Frahm said. "This upcoming weekend, I was going to go down to Tempe to Arizona State, and then the weekend after, I was going to go to Norman for Oklahoma.
"The day after the video was posted of me a couple weeks ago, my phone blew up. I was hearing from Tennessee, Oklahoma State, South Carolina and Grand Canyon, along with other ones as well."
The 6-foot, 230-pound Frahm is currently a sophomore on the College of Southern Nevada team, said he will have three years to complete two seasons of eligibility on the Division I level. He is a corner outfielder for the Coyotes, as well as a relief pitcher. His fastball touches 98 mph, but he struggled with control.
"Nebraska recruited me as a corner outfielder and a backend bullpen guy," Frahm relayed. "I'm not slow, but I'm not an absolute speedster as well. I don't have elite speed, but I feel like my right arm helps a lot. It's a real threat to base runners. In the outfield, I can track the ball really well. For a guy like me, it's all about angles to cover ground quickly.
"Our head coach had me batting the 4-hole all year. I feel like I'm a threat for the long ball. Obviously, I'm not going to hit one every at-bat, but I have the ability to hit it out to all parts of the field, from pole to pole, and to produce runs. I think I batted.354 with 12 home runs and 13 doubles. I don't know how many RBI I had."
Frahm couldn't be happier with the way things developed with Nebraska, as he was a very close observer of their success last season.
"I think there's only one direction with the Nebraska baseball program is going to go with Coach Bolt, and that is up!" Frahm stated emphatically. "Everybody saw glimpses of it last year. Like, preseason they were predicted to finish 8th in the Big Ten and they just dominated!
"Just seeing them bring Arkansas to the brink in the Fayetteville regional was like, 'Holy cow!' I couldn't take my eyes off the screen watching that regional. I was instantly starting to bleed red again, and talking to my boys like Cade Povich and Max Anderson, they had nothing but good things to say about the coaching staff.
"I knew that I had to at least meet them and get to know them. After I met them, I could see why those guys say what they say about the coaching staff. That whole coaching staff are great human beings! Obviously, they are great coaches, too. I remember seeing that interview with Coach Bolt when he just got hired. They asked him what kind of coaching style he was going to do and he just said, 'Winning.' I loved that and I want to be a part of that!"
Frahm is the ninth known verbal commitment to Nebraska's baseball class of 2022, with five of them being in-state commits, and three others coming from border states.