Husker All-American safety ineligible for bowl game
Nebraska head coach Mike Riley announced on Thursday that senior safety and captain Nate Gerry is ineligible for the Huskers' upcoming bowl game in Nashville and will not be on the plane when the team leaves Sunday. Riley also announced that junior reserve cornerback Boaz Joseph is ineligible for the bowl game.
The loss of Gerry is a crushing blow to the NU defense, as Gerry is regarded as the top NFL Draft prospect on the Husker roster. He was recognized as an All-American and All-Big Ten safety by multiple media outlets.
"I can't say anything more than that," Riley said when asked why the two players were suspended. "They didn't do anything behavior wise or something that would be a violation of a rule that I have. It wasn't a coaches decision and it wasn't it a team rule. It was just plain out eligibility.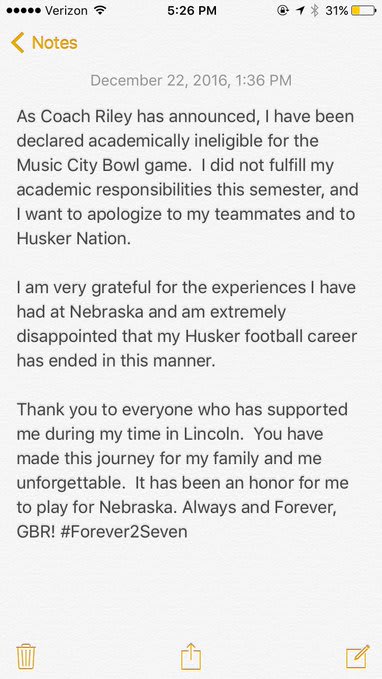 "You can figure it out from here, but I can't say anything about what it specifically is. It has to do with the fact Nate and Boaz are not eligible for the game."
Gerry and All-Big Ten wide receiver Jordan Westerkamp (knee) will not play in the Music City Bowl on Dec. 30, and it's expected that senior quarterback Tommy Armstrong (hamstring) will also be held out.
Armstrong hasn't taken a snap since NU's 40-10 loss at Iowa on Nov. 25 where he reportedly played at only 30 percent health on his injured hamstring.
"That's an interesting thought when you put all that together," Riley said when asked about playing the bowl without Gerry, Westerkamp and possibly Armstrong. "We are disappointed for us and for them. They have had great careers here and have impacted lots of things in their life here and I think had a big impact on the improvement of this year's team. We definitely will miss them."
Gerry finishes his Nebraska career tied for second all-time in school history in interceptions with 13, just one behind the school record of 14 held by Dana Stephenson.
He also ranked sixth all-time in career tackles and second for defensive backs with 273, only behind former NU All-American Mike Brown's 287 tackles.
Gerry will finish his Husker career No. 1 all-time with 19 tackles for loss as a defensive back, breaking Brown's record of 17 set in 1999.
Sophomore Antonio Reed is expected to be the player who steps up in Gerry's absence in next week's bowl game against Tennessee.