Hoppes poised to have a big season at tight end
Of all the things Nebraska head coach Mike Riley shared last week at Big Ten Media Days in Chicago, one of the more intriguing comments he made regarded the tight end position.
When talking about the potential of this offense in 2017, Riley was not shy about his thoughts on senior tight end Tyler Hoppes.
"I think Hoppes might be as good a receiving tight end as we've had, in a long time, for me," Riley said. "So, I'm excited about him, and what's the best way to get Tyler the ball, and how that fits, and what do we see as the priorities on who should get it, and how often?"
Related: Sunday practice observations | Sunday practice nuggets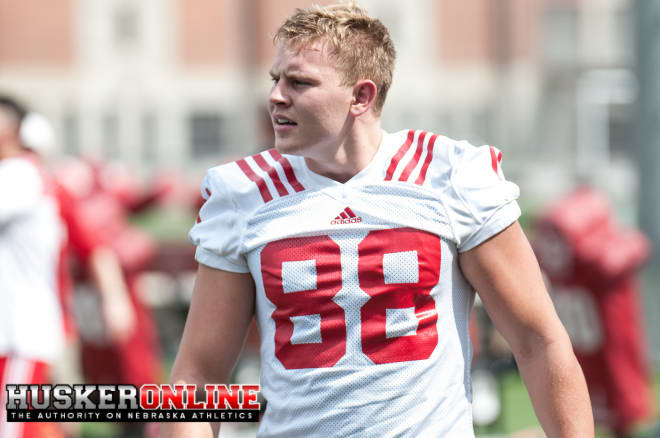 What's interesting about that comment is Hoppes has not made a career catch as a Husker, yet Riley was not shy about sharing his thoughts.
"That's high praise. I hope I can live up to that," Hoppes said.
"Hopefully I can be a good receiver for us. That really opens up the run game and (Stanley Morgan) and the receivers and not making them do as much either."
The Division II Wayne State transfer started his career at NU as a defensive end. He was on a Lincoln Southwest High School team that included both former Huskers Josh Banderas and Brandon Reilly, but still flew under the radar despite his 6-foot-4 frame.
Even last season Hoppes was an afterthought because seniors Cethan Carter, Sam Cotton and Trey Foster all played over him.
"Cethan was a four-year starter and Sam (Cotton) was virtually a four-year starter, so all of their game experience really helped me put things into perspective," Hoppes said.
"I was behind three seniors the whole time I was here, but they really helped me transition into the player I've become today."
It's also become pretty clear that quarterback Tanner Lee has taken a liking to Hoppes. In Sunday's practice alone, you could see Lee's overall comfort level with Hoppes as he threw strikes over the middle to him.
His ability to catch the ball, along with Lee's ability to stay within the offense should help the tight end have as big of a role in the offense as we've seen in several years.
"The work he put in spring ball and over the summer, I mean he's got unbelievable hands," Lee said of Hoppes. "His athletic ability with the size he has is really hard to come by. You don't see that often. I'm extremely comfortable with him running routes and I think he's a great mismatch for any linebacker."