Hoppes hoping big gamble pays off in 2017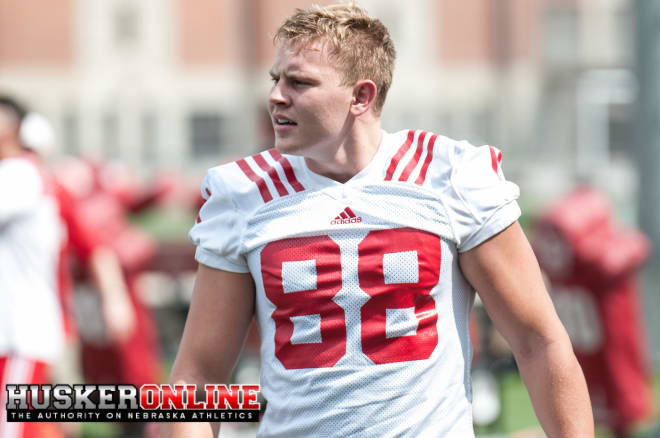 Nebraska had two players receive invitations to participate in last week's NFL Combine, one of whom was tight end Cethan Carter.
As if those shoes were already big enough for the Huskers to have to try and fill this season, also gone from the tight end room are top backups Sam Cotton and Trey Foster, leaving a combined void of 129 games played, 61 starts, 80 receptions and nine touchdowns at the position.
While NU may only be three practices into the spring, it already looks as if it has found its new leader at tight end in senior Tyler Hoppes.
A former walk-on who came to Nebraska via Wayne (Neb.) State, Hoppes was able to catch the attention of his coaches last season with his play in practice despite working behind three veterans.
Now, offensive coordinator Danny Langsdorf said Hoppes is in line to be the Huskers' next starter in 2017.
"I think Tyler Hoppes probably has an edge there with the amount of time he's played and being an upperclassman," Langsdorf said. "You obviously can't replace a Cethan Carter right away, but Tyler can run well, he runs nice routes, he's blocking on the line of scrimmage well, he's done a nice job in pass protection. I've been impressed with him to this point."
Hoppes' path to Nebraska certainly wasn't an ordinary route. After not being looked at as a walk-on coming out of Lincoln (Neb.) Southwest in 2013, Hoppes accepted a scholarship to Wayne State, where he played in nine games with one start as a true freshman tight end.
It didn't take long for him to realize WSC wasn't the place for him, so he reached out to one of his former Southwest teammates - former Husker linebacker Josh Banderas - to see if he could help him get another look from Nebraska.
Banderas put Hoppes in contact with former assistant athletic director for football Jeff Jamrog, and things quickly progressed to Hoppes earning a walk-on invitation for the 2014 season. He began his NU career as a defensive end and redshirted his first year, but much more change was still yet to come.
When head coach Mike Riley and his staff took over in 2015, Hoppes immediately reached out to graduate assistant/tight ends coach Tavita Thompson about possibly moving over to offense.
"I went out to Tavita and he welcomed me with open arms," Hoppes said.
Of course, opportunity was definitely limited considering the depth Nebraska had at tight end, and it wasn't until last season before he finally saw his first game action on special teams as a junior.
Even though he wasn't playing much, Hoppes was still able to make quite the impression on his coaches with his play in practice.
Langsdorf mentioned Hoppes by name in press conferences several times last season, and now with a golden opportunity to establish himself as NU's new starter, Hoppes is capitalizing on the chance while also stepping up as the leader of the position.
"It's kind of a different mindset when you are 'the guy'," Hoppes said. "You are taking the first-string reps, you have to show out and prove yourself. That's what I'm trying to do."
It's been a long road for Hoppes to get to this point, and even though he had to take the risk of giving up a scholarship for a chance to walk-on at his dream school, his gamble looks to have paid off in a major way.
"I gave D-II a chance, and then if I couldn't make it here, I couldn't," Hoppes said. "I wanted to try it out… I wouldn't change my path for anything."