Hoops Game Day: Cal State Fullerton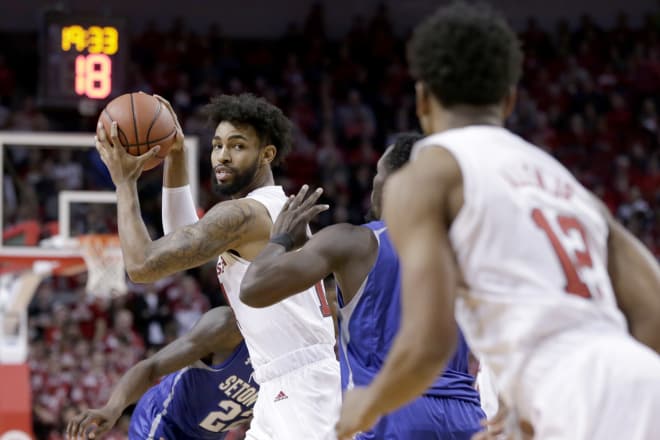 WHO, WHAT, WHERE, WHEN
Nebraska Cornhuskers (9-2, 1-1) vs Cal State Fullerton Titans (3-8, 0-0)
Saturday, Dec. 22, 2018 - 1 p.m.
Pinnacle Bank Arena
TV: BTN
Radio: Husker Sports Network
Internet: btn2go.com
Nebraska projected starters
| NAME | HT/WT | YEAR | NOTES |
| --- | --- | --- | --- |
| Glynn Watson | 6-0/180 | Sr. | Averaging 13.7 points, 4.2 rebounds, 3.6 assists, and 1.2 steals per game; needs 14 points to move into 18th on NU's career scoring list. |
| Thomas Allen | 6-1/184 | So. | Missed all last week of practice and was hospitalized due to a stomach virus, still came off the bench to score 14 points on 5-of-7 shooting vs. Oklahoma State. |
| James Palmer Jr. | 6-6/207 | Sr. | Averaging 19.6 points, 3.6 rebounds, and 2.9 assists per game; led team with 29 points and five assists in win over OSU. |
| Isaac Copeland | 6-9/225 | Sr. | Averaging 16.0 points on 57 percent shooting along with a team-high 6.0 rebounds per game; had 16 points on 7-of-11 shooting vs. Oklahoma State. |
| Isaiah Roby | 6-8/230 | Jr. | Along with averaging 9.2 points and 5.8 rebounds per game, he's the only player ranked in the top-10 in Big Ten in blocks (1.5, seventh) and steals (1.7, third). |
Cal State Fullerton projected starters
| NAME | HT/WT | YEAR | NOTES |
| --- | --- | --- | --- |
| Austen Awosika | 6-3/193 | Jr. | Averages 7.2 points 4.8 rebounds, and a team-high 3.7 assists per game. |
| Kyle Allman Jr. | 6-4/182 | Sr. | Leads team and is second in the Big West Conference in scoring at 17.3 ppg; first-team selection last season who led the conference at 19.5 ppg; scored 35 at Arizona State and 38 vs. Hofstra. |
| Jamal Smith | 6-3/170 | Jr. | Scoring 4.2 points per game but also averages 2.5 assists. |
| Johnny Wang | 6-9/245 | So. | Averaging only 3.5 ppg but is shooting 57.7 percent from the field. |
| Jackson Rowe | 6-7/210 | Jr. | Averages 10.4 points and a team-high 6.7 rebounds per game. |
3 KEYS TO VICTORY
1. Keep Allen involved
While James Palmer Jr. dropped 29 points in Nebraska's win over Oklahoma State in Sioux Falls, it was Thomas Allen who stole the headlines. He ended up with a solid 14 points on 5-of-7 shooting in the win, but the fact that he did so after being hospitalized with an illness less than 48 hours earlier made it a valiant effort. That performance was the highlight of what has been a pretty good month for the sophomore guard, as he is averaging 12.3 points on 64 percent shooting with 2.5 assists per game during the month of December. The Huskers have a lot of veteran star power ahead of him, but getting production like that from what head coach Tim Miles called "the fifth Beatle" makes them legitimately dangerous.
2. Get the bench some minutes
Maybe the one unanswered question still remaining is how well Nebraska's bench is going to be able to help carry the load once the grind of the full Big Ten Conference schedule gets underway. These last two non-conference games (including next week's home game vs. Southwest Minnesota State) are valuable opportunities to get the players beyond the starters some quality game minutes, which have been somewhat few and far between. It's now more important than ever with freshman guard Amir Harris, who had been one of the first options off the bench, out indefinitely as he deals with mononucleosis. The more playing time guys like Nana Akenten and Thorir Thorbjarnarson can get in his absence, the better.
3. Handle your business
A lopsided matchup like this generally wouldn't give much reason for worry, but considering Nebraska's recent history in these holiday break buy games, it's understandable why fans might be a little leary the next couple weeks. The Huskers avoided disaster last year with wins over Delaware State and Stetson, but the Hatters gave NU all it can handle in a nine-point victory. Two years ago they lost at home to Gardner-Webb and only beat Southern by five. Three years ago they lost to Samford, and four years ago were upset by Incarnate Word. Needless to say, Nebraska is in no position to take anyone for granted, and it needs to be locked in the same way it would be for any other opponent on the schedule the next two games.
QUOTABLE
"We don't have the same team we had in previous years, so that's one good problem. You can't hold that against guys that weren't here or one or two guys (that were), but we do try and alarm them and say, 'Don't play your way out of the NCAA (Tournament).' But we don't reference the past, because I don't think it does you any good in a positive or negative way."
— Head coach Tim Miles on using previous December buy-game losses as warnings for this year's team.
PREDICTION
Nebraska 87, Cal State Fullerton 62
Robin's season record: 8-3
vs. the spread: 6-5