Harrison selected in 2nd round by the Brewers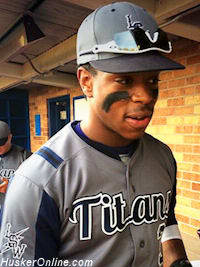 Monte Harrison
entered the 2014 MLB Draft expecting to potentially be among the first 30 selections, but the outfielder surprisingly fell to the No. 50 pick, taken by the Milwaukee Brewers.
Harrison was the last player who attended the draft in New York to be selected. The signing bonus slot for the No. 50 pick is just more than $1.1 million.
A football and baseball commit for Nebraska, Harrison was rated as the No. 17 overall player in the draft by ESPN's Keith Law, and Baseball America pegged him as the No. 2 high school player available. The fact that he fell so far made the MLB Network commentators questions whether signability concerns may have caused Harrison to slide.
"The multi-sport guys are a little tougher to sign away," analyst Jonathan Mayo said. "One of the reasons why he might not have gone as high as some of us predicted is reportedly his advisors had a pretty high price tag to sign him from the commitment. This is where your scouts have to have a feeling of whether he wants to play ball."
Harrison was the third player picked by the Brewers, following fellow high schoolers Kodi Medeiros (No. 12) and Jacob Gatewood (No. 41). The MLB commentators listed all three selections as "premium, high-upside players," which means the Brewers might not be able to save money from one of their early selections to use for Harrison.
Analyst Harold Reynolds compared Harrison to Carl Crawford, a one-time Nebraska football commit who chose to go pro after being selected with the No. 52 pick in the 1999 draft. Crawford has since become a four-time All-Star and a Gold Glove winner.
"This kid is an off-the-charts talent, and he reminds me a lot of Carl Crawford in terms of ability," Reynolds said. "You talk about an athlete? Let me tell you about Monte Harrison. Look at this young man's ability. He's got a chance to go play football at Nebraska, so we'll see what happens with the Cornhuskers."
Harrison is a four-star prospect in football and is the No. 33 wide receiver in the 2014 class.