Hannon picks the Huskers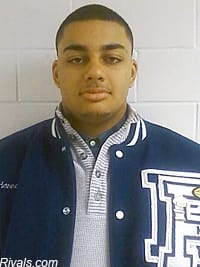 Nebraska landed arguably their top offensive line target when Kansas City (Mo.) Rockhurst prospect
Zach Hannon
announced his commitment to the Huskers.
The 6-foot-5, 295-pound Hannon had double digit offers in hand and ended up choosing Nebraska over Arkansas and in-state school Missouri.
Hannon has visited Nebraska three times this year and admitted that he was close to committing to the Huskers when he was in Lincoln for the Big Red Weekend.
Even though Hannon was close to making a decision in June he wanted to take his time and make sure to not rush the process any more than he needed to. Subsequently, Hannon made additional visits to Northwestern, Arkansas, and Missouri before deciding today.
"Nebraska was just where I thought I fit in best," Hannon said. "I love Arkansas and Missouri, they are both great schools but I just thought that Nebraska was just that all-in-one package for me.
"I called up Coach Garrison and told him that I was committing to Nebraska. He was really excited, they were doing some screaming in the background and everything. Then I talked to Coach Pelini and he was fired up too."
One person that really helped Hannon in his decision making process was his former teammate and Nebraska true freshman linebacker Michael Rose.
"Michael is just one of my close friends. He's not going to tell me what I want to hear. He just told me how things really are down there and it was what I wanted to hear from him. He definitely played a factor in things."
Hannon said that he has not decided on when he will take his official visit to Nebraska but hope to get to Lincoln soon.
Hannon becomes second offensive lineman commit in Nebraska's class and the 13th overall commit for the Huskers. He is rated as a three-star prospect and is considered the 18th overall guard in the nation.