GTK: Record-breaking running back Sevion Morrison
Running back Sevion Morrison was one of seven Rivals250 signees Nebraska had in this class, which tied for the most in the Rivals.com era reaching back almost two decades.
Morrison set the career rushing yards record at Edison High School with over 5,000 yards from scrimmage. He broke the old record of former Oklahoma Sooners great Spencer Tillman.
Morrison was one of two running backs signed this past cycle, and he will compete for immediate playing time this coming season when he arrives in Lincoln in May.
"Sevion [Morrison]... always has a smile on his face," Cornhusker head coach Scott Frost said in December. "I just love talking to him. Sevion is a complete back. I think at times this year, if we were going to run certain plays in our offense, we wanted one guy out there, and if we were going to do other things, we wanted another guy out there.
"It makes life a lot easier as a play-caller if one guy can do all those things. Sevion is that type of running back. He catches it well. He runs it well, has speed, and can run between the tackles with his size. He's really an all-around guy."
Below is another in our series of "Getting to know you" features which we will be running on the members of Nebraska's 2020 recruiting class.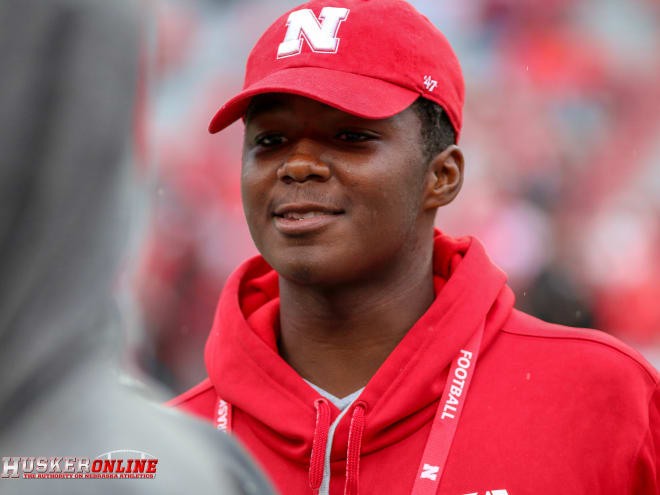 Position: Running back
Tulsa (Okla.) Edison
Current size: 6-foot-1 and 202-pounds
Rankings: Morrison was rated a 5.8 four-star recruit by Rivals and the No. 232 recruit nationally. He was estimated as the No. 14 running back in the country and the No. 2 recruit in the state of Oklahoma for this cycle. He was named the district offensive player of the year, in addition to winning the Ford Award as the player of the year in Northeast Oklahoma. He was named to the Tulsa World all-state first team as a senior and junior, and he was also one of five finalists for the organization's offensive player-of-the-year award.
Recent statistics: As a senior, Morrison had 183 carries for 1,798 yards, averaging nearly 10 yards per carry while scoring 26 touchdowns. He also had eight receptions for 276 yards and three touchdowns. As a junior, he rushed for 2,728 yards with 39 total touchdowns, while averaging 12.8 yards per carry to help the Eagles reach the state playoffs for the first time in four years. He also caught seven passes for 205 yards and averaged 27.2 yards on five punt returns. Morrison also rushed for more than 1,000 yards as a sophomore.
Other schools offering scholarships: Wisconsin, Washington, Utah, Arkansas, Baylor, Iowa State, Kansas State, Mississippi State, Minnesota, Missouri, Georgia Tech, Virginia Tech, Virginia, UCF, Syracuse, Kansas, Colorado State, Memphis, Nevada, SMU, North Texas and Liberty.
PERSONAL PREFERENCES
What do you do in your spare time?
"I usually play video games or workout. I play Fortnite all the time. I used to think that it was the weakest game on Earth, but somehow my friends got me playing so I am running with it."
What food do you like the best?
"Mexican food like quesadillas and nachos. Stuff like that."
What is your favorite television show?
"I don't really watch television. The only time you will see me watching television it will be sports."
Do you have a favorite movie?
"Ooh, it's gotta be Bad Boys. I can watch that movie over and over."
What type of music do you listen to and who is your favorite musical artist?
"I like NBA Young Boy, but I like to listen to everything. I don't do pop or country music, but
I will do rap, hip hop or R&B. I spread it around a little bit."
Who has provided great inspiration to you in your life?
"I would say my mother."
What person(s) from history or alive you would like to sit down and have dinner with?
"One of my closest friends. He died when I was in 4th grade. He was older than me. I considered him a big brother. That's how close we were. He is one of the first people I can remember dying in my life. We used to play outside every day. I can just remember 4th grade and it's been a long time."
Do you have a nickname?
"It used to be Flash, but I don't really like that anymore. It's Sevy."
What is something very few people know about you?
"I can cook. I like to try new things."
If football wasn't an option, what would your dream career be?
"I like to rap and music. I would have liked to have done something around that."
Do you have a major picked out yet?
"I am in architectural engineering, but I might change it. There are a lot of majors to choose from."
Have you met all the academic requirements to enroll at Nebraska?
"Yes."
THOUGHTS AND OPINIONS
Who is your favorite football player of all-time?
"Adrian Peterson. He was an all-around back. He could catch and had a great burst."
Who is the best football player you've personally played against in a game?
"I would say Dominic Richardson. He's from my hometown. We played against each other and it was like the top two running backs in the state squaring off with one another."
What has been the most memorable moment on the football field so far in your career?
"I would say beating Bishop Kelly. We hadn't beaten them since I was in high school."
Do you have a pre-game ritual?
"I put 'Long Live My Brother' along my tape. Then I get a prayer with some of the teammates at the goal line. What people don't know is that I get my own secret prayer in with my quarterback."
Besides football did you play other sports growing up or in high school?
"I played basketball and track. I stopped playing basketball my sophomore year. I have been running track since my sophomore year. I am going to probably only do the 100-meter this year. My PR is 10.4."
What is the one thing you most need to work on to play at the next level?
"The only thing getting in the way is just understanding the plays."
How often do you work out and what is your routine?
"I work out every day of the week except for Saturday. I do a light day on Sundays."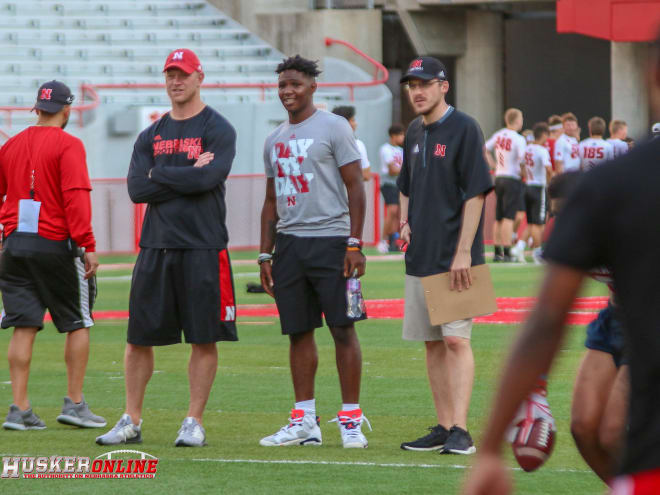 WHY NEBRASKA
What did you know about the Nebraska football program before they offered and started recruiting you?
"I really didn't know too much about them, honestly. The coaches provided a lot of information through the process."
Do you have any family ties to the Husker football program or the state of Nebraska?
"Actually, yeah. Coach Scott Frost played with my cousin Steve Warren at Nebraska. I found that out after I committed. I haven't actually met him. My mom and dad knew he was my cousin."
What were the major determining factors in your picking Nebraska and signing with the Huskers?
"The early playing time. I can see myself at Nebraska for the next four to five years. And, it was just the love from the coaching staff."
Did the Nebraska coaches do anything unique when they were recruiting you that other colleges didn't?
"Out of all of the schools recruiting me, Nebraska texted me every day. It wasn't just one coach, it was all of the coaches."
Which Nebraska coach do you feel especially close to?
"I am really close to coach Ryan Held and coach Frost."
What was the best feature of your official visit to Nebraska?
"Everything! It was not like anything I had imagined. When coach picked me up from the airport, he told me that it wasn't going to be like what I thought and I thought it was just going to be farms and fields. It was amazing."
Did Nebraska's weather factor into your recruitment?
"No. It will get cold, but I am not scared of the cold."
Did you make friends with any current players at Nebraska or incoming freshmen during the process?
"Yes. I got to be friends with Turner Corcoran and Tamon Lynum. I got to know Wan'Dale Robinson and Caleb Tannor, too."
What did you think of Nebraska's season?
"It wasn't the best, but we also need more players. That's what we have coming in."
A LOOK AT THE RECRUITING PROCESS
What's the funniest or craziest thing that happened to you during the recruiting process?
"I got three offers in a day. I couldn't believe it. It was crazy."
What was your favorite moment during the recruiting process?
"Getting on the phone with coaches and meeting new people. It's not something that I was used to."
How did you inform the Nebraska staff of your commitment?
"I silently committed to coach Frost for a week or two. I told my high school coach."
What was the worst moment during the recruiting process?
"It got stressful. It will get to your head a bit if you let it."
Which schools tried to get in the picture with you and wanted you to visit after you committed to Nebraska?
"More schools showed interest after I committed. I was locked in. Arkansas, Baylor, Memphis, Missouri, Virginia Tech, Virginia; and the day of signing day Oklahoma and Oklahoma State hit me up."
Did any schools negatively recruit against Nebraska? If so, what did they say?
"Nah, no one spoke badly about the Huskers."
What school would you have chosen if you hadn't decided in favor of Nebraska?
"I would have been at Arkansas."
FUTURE AND GOALS
What position will you be playing at Nebraska?
"Running back."
Are you expecting to redshirt your first year at Nebraska?
"No sir."
What number would you like to wear at Nebraska?
"I am not sure yet. I would like to keep 28. 28 or 8. It just depends."
What will you bring to Nebraska as far as a strong point?
"I am an all-around running back. I am not a guy that you have to run in and out of the game to do things. I will be able to do it all."
What are your goals for your first year in college?
"I want to show them who I am. I want to get as much knowledge and playing time as I possibly can."
Are you planning to attend the Huskers' Red-White spring game?
"Yes sir."
What would you like to say to the Nebraska fans?
"I'm coming."
Previous GTK articles: