Gregory selected by Cowboys in 2nd round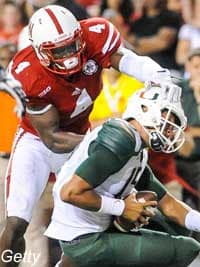 But the wait finally ended on Friday when the Dallas Cowboys selected him with the No. 60 overall pick in the second round of the 2015 NFL Draft in Chicago.
"It's been a long, long, long couple days, but it's definitely worth it," Gregory told ESPN. "I think it's the best fit for me, and I think the organization believes that also. I can't can't even put it into words. I'm just ready to do big things."
A two-time first-team All-Big Ten selection, Gregory led the Huskers in sacks in each of the past two seasons. He had 17.5 sacks, 34 quarterback hurries and 29 tackles for loss during his two seasons in Lincoln. An athletic specimen, it was widely acknowledged that Gregory was one of the top prospects in the draft and had incredible upside.
"According to more than a dozen coaches, scouts, personnel chiefs and GMs, there is concern about Gregory's ability to handle the mental rigors of professional football," Breer and Rapoport state in the article. "And just how far he drops in this week's draft will likely hinge on the individual psychological profiles (and the results of related testing) put together by each team, according to multiple veteran evaluators. He has been taken off a several team's draft boards, according to multiple sources."
"It's been a big learning experience for me," Gregory said. "I made a few mistakes along the way, and it's been real humbling. I made a promise to myself a while ago that I'm going to turn this thing around. I'm going to make my folks proud and I'm going to make this organization proud. I'm going to do it. I'm going to do it big. I promise you that."
[rl]