Getting to know OL Coach Mike Cavanaugh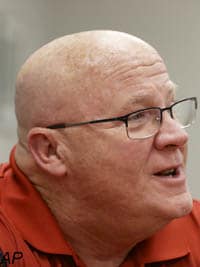 Click
Here
to view this video.
New Nebraska head coach Mike Riley's coaching staff is nearly complete - the receivers coach is the only spot left to fill - and the new hires met with the media for the first time this pastThursday afternoon. HuskerOnline.com spoke with all eight NU assistants and will be running the interviews to help fans get familiar with their new coaches.
Today we get to know new offensive line coach
Mike Cavanaugh
, who worked with
Mike Riley
at Oregon State since 2005. Before that Cavanaugh had stints with the San Diego Chargers and Hawaii as their offensive line coach. The fiery Irishman brings a passion to the game that has been very popular with his players over the last several years. Here's HOL's full interview with Cavanaugh.
What drew you to the job here at Nebraska?
"Obviously Mike Riley is a big factor. Then the tradition and the history of the University of Nebraska and having this opportunity was a big part of it."
Talk about your recruiting background and history. I've noticed you've been all around the country and you have a lot of hot spots you've pulled guys from. Where are your recruiting areas of expertise?
"The older you get the more experience you get. Then obviously I've lived in a lot of places around the country. I grew up on the East Coast, I lived out in Hawaii, I've been to Samoa, I've recruited Arizona and California - pretty much all over the place. Texas, Florida, so one of the things you are going to get with me as far as recruiting goes is I'm going to work hard at it and be a grinder.
"Obviously recruiting might be a little bit different here because you are going after all the national prospects, so I might be doing more just specific offensive line recruiting. Right now the most important thing is securing this class and right now we are talking about what we'll do in the future as far as our philosophy in recruiting as far as everyone having an area. Once that is finalized, I think everyone will know that."
You hear a lot of coach says 'it's hard to recruit to Nebraska' or 'it's hard to get guys there.' What's your response now after being here a month?
"I can't wait. We are going to go to work. We are going to secure this class. I'm looking forward to recruiting in the future. It's always hard to talk about that part of this right now, but I'm excited. We have everything we need. I've been waiting for an opportunity like this my whole life to be able to represent a school like Nebraska and coach at Nebraska and help guys grow and develop."
When you look for linemen, is there one thing you look for over another?
"I think there are a couple things. No. 1, we want nasty, tough guys that love football. I think you have to be a pretty good student too, because you have a lot on your plate as far as being an offensive lineman. Then obviously you have to have the size, so you want a good sized, athletic smart guy that's tough. Those would probably be the four traits you would like to see."
What do you know about the group of linemen you are inheriting? You have six senior scholarship linemen returning to work with.
"I know they were well coached group. You look at what Coach (Barney) Cotton and Coach (John) Garrison did with them, I watch the USC game on tape and they played hard. That's the one thing I loved. I think they are pretty well off technique wise. Obviously there were some things on film though we are going to continue work on and improve. I'm just looking forward to joining them and then hopefully having them gain my trust. That's going to be a big, big thing."
What do you know about the history of Nebraska's offensive? How much have you studied it with all the Outland Winners and guys like Dave Rimington. Also, do you know Milt Tenopir and his background?
"I was kind of a new coach just starting out and I heard Coach Tenopir at a Frank Glazier clinic in Boston in 1987 and I was really looking forward to meeting him. One day when we first arrived he was here and I got to meet him with Coach Riley. Then I said 'hey coach, I remember what you called your double team. It's a do-dat block.' He couldn't believe that. Obviously I'm really looking forward to get to know him better. I called him Christmas Day just to wish him a Merry Christmas. I was supposed to go with him to Omaha to speak to a group of football people, but I didn't get a chance to go.
"As far as the history and tradition with the Outland Trophy winners and the Rimington Awards, my brother-in-law is Kevin Gilbride and he coached Dean Steinkuhler in Houston. I had a chance to meet Dean Steinkuhler, I know Dominic Raiola having a history in a Hawaii and I also know about Toniu Fonoti. Obviously I'm looking forward to being part of that type of tradition."
Being here just a month now, has it surprised you the amount of attention you guy have gotten? Today, it almost has to feel like a Super Bowl Media Day with this many people here to talk to you guys
"Yes (laughter). It's awesome. I've been waiting for this my whole life. Obviously it's everything I imagined and more. This is football country and I love it."
So at Oregon State I take it you didn't get stopped at the grocery store that much?
"No, as Coach Riley said we lived a pretty normal life in Corvallis. Here everywhere you go I hear: 'Hey, are you Cavanaugh? The new line coach?'
"Then I got a kick out of when this thing started with my Twitter following. I'm not a technology guy, but it started just going crazy. I'm seeing 'huskers, huskers, huskers' and it just blew up. It started kind of when Coach Riley got the job, then all of a sudden it just went wild. I mean things like old YouTube videos. (Husker fans) studied now, which is awesome."
Click
Here
to view this Link.
[rl]