Gebbia already confirming Huskers' high hopes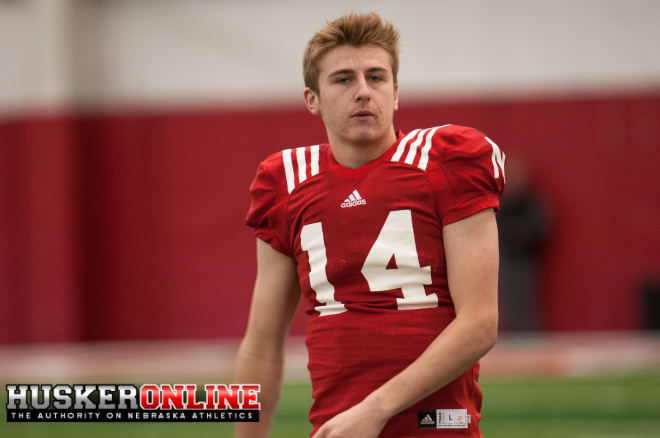 It got to the point where Nebraska head coach Mike Riley decided he needed to tell Tristan Gebbia how to get in and out of Memorial Stadium on his own after everyone else had gone home for the night.
A true freshman who enrolled a semester early to participate in spring practices, Gebbia quickly became known as being the last player to leave the football facilities at night because he insisted on staying late to watch film.
"I told him where the secret passageway was when the doors are locked so he could get in," Riley said. "That's the kind of guys he is."
Nebraska had a pretty good idea of the type of quarterback it was getting when Gebbia committed and then signed in its 2017 recruiting class.
The former four-star prospect ranked as the nation's No. 6 quarterback and the 122nd overall player in his class after a glistening career at Calabasas (Calif.) High School.
Gebbia ended up as the second-leading passer in California prep history, throwing for 13,109 yards and 141 touchdowns in his career and 5,338 yards and 61 touchdowns as a senior, all while completing better than 70 percent of his passes.
Both Gebbia and NU's coaches knew it was going to be a steep hill to climb in order for him to avoid redshirting this season, but his performance through the first few weeks of his college career have Riley and Co. as excited as ever about the future.
"We obviously recruited Tristan, gave him a scholarship, thought he was real good," Riley said after Nebraska's first major spring scrimmage on Saturday.
"Today, it was all confirmed. The guy's a football player. Moves the ball, quick release, sees what's going on, knows what's happening. It was all very encouraging."
Gebbia has a firm understanding of the situation he's currently in working behind the likes of junior Tanner Lee and redshirt freshman Patrick O'Brien.
But as a true freshman who is already showing the drive and work ethic of an upperclassman, it might not be long before Gebbia forces his way into Nebraska's quarterback discussion.
"I just think that it will be good to just have another really hardworking guy who wants to make the team better," Gebbia told HuskerOnline.com in January.
"I think there's always a place for that, and there's a lot of guys there who like to work hard and do the best that they can. I think that describes me, and it's something that I will be able to do for them."